To begin Phase-1 of my Project-JK build up, I set out to get my Jeep JK Wrangler Rubicon Unlimited lifted tall enough to clear 35″ tires and to be able to do it on a really tight budget.  And, while I was able to accomplish the lift I needed with a TeraFlex 2.5″ Budget Boost, I found it hard to compromise on what kind of wheels and tires I should run.  After all, a good set of tires play a huge part in how well your Jeep will perform on the trail and for me personally, I have always been of the mindset that it makes more sense to buy a set of good tires I know I can trust than to buy a set that might be more affordable but will end up leaving me sitting high and dry when I really need them the most.  And, to complicate things even more, it would seem that finding a decent set of wheels and tires that will actually fit the JK's odd 5×5 bolt pattern hasn't exactly been the easiest thing to do especially since they are in such high demand right now and supplies are so limited.
Anyway, with just a couple of weeks left before the 2007 Moab Easter Jeep Safari, I needed to get some new tires and I needed to get them fast.  So, I decided to make a few calls to my sponsoring vendors to see if anyone could help me out and as luck would have it, 4 Wheel Drive Hardware was able to come to my rescue.  The only catch was, the only tires they had available in the size I wanted was the brand new Pro Comp Xtreme Mud Terrains.  And, being such a new tire that hasn't had much if any real testing on the trail or otherwise, I have to admit that I was a bit reluctant to go with these at first.  But after examining its tread design and doing a bit of reading on all its features, I decided someones got to give them a real test sooner or later and it might as well be me.  Need I say, with just a few days to spare, 4 Wheel Drive Hardware shipped over a complete set of five 315/70R17 Pro Comp Xtreme Mud Terrain Tires mounted and balanced on a set of great looking 17×9 Pro Comp Series 8179 Black Powder Coat Wheels that have 4.75″ of back spacing.
So, how have the Pro Comp Xtreme Mud Terrains been performing? Well, I can tell you that since I got them about a month ago, I have racked up about 3,000 miles on the odometer with a good 1,500 miles of that being put on driving out to Moab, Utah and wheeling the hell of the them there.  And, I'd have to say that I'm pleasantly surprised as to how much I really like these tires!  Although they do tend to sing a bit louder at highway speeds than did the factory BFGoodrich Mud Terrains I was running before, it really isn't by much and I suppose some of it could just be from the tires being larger in size.  But, unlike the BFGoodrich M/T's, the Pro Comp Xtreme Mud Terrains have a tread design that includes sipping on its lugs and I have found them to offer much better traction on wet/slippery roads.  On the trail, I found that the sticky rubber compound used in the construction of this tire provided superior grip on the slick rocks of Moab and helped make my JK to conquer just about every obstical that I could throw at it.
As far as tire wear goes, I am currently running my 315/70R17 Pro Comp Xtreme Mud Terrains at about 26 PSI which I have found to provide a good footprint that allows them to wear nice and evenly.  In fact, in the 3,000 miles that I have put on them, I have actually seen very little signs of wear unlike I have seen in the same amount of time on other tires I have run in the past.  At this rate, I would hope to see at least 40,000 miles of usable life out of them and most likely even more than that.  And at about $250 a piece, every mile you can get out of a tire makes it that much more of a value.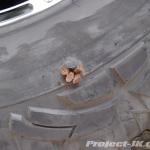 Now, in all fairness, I will have to say that I did loose one tire while I was in Moab and that was only because I needed to back my JK off the trail a bit to let some other Jeeps pass and in doing so, I ended up lancing one of my sidewalls on a short hard and dry 1/2″ thick tree branch sticking out of the ground (yes, I am kicking myself for not opting to get the optional Road Hazzard warranty).  And, to be quite honest, I'm not sure if any tire short of a super thick bias ply tire would have been able to resist being puntured as well.  Fortunately for me, Jeff from Superior Axle & Gear and Tim from Motive Gear both jumped in to help me to get the tire changed quickly and David from Northridge4x4 was able to succesfully patch it up with a Safety Seal Tire Repair Kit allowing me to still use it as a viable trail spare until I could get it replaced (NOTE: A sidewall plug is by no means safe and should not be used for on-road/highway use).
Without a doubt, I will have to revisit this review once I've put on a substantially greater amount of miles on these tires to know for sure what the long term effect really is.  But for now, if you were to ask me if I would recommend these tires to you, I would have to give them a resounding YES!
Click here to see more Pro Comp Xtreme Mud Terrian and Series 8179 Wheel Pics
Eddie
Special Thanks:  Again, I would like to thank 4 Wheel Drive Hardware for all their help and support.  If you're looking for a set of wheels and tires for your Jeep JK Wrangler, these guys have one of the biggest selections to choose from.