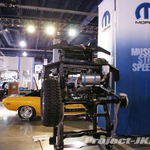 BIG NEWS EVERYONE!!  For all those people who've been leary about installing a lift kit on their Jeep JK Wrangler or were told by their dealership that they could not exceed a 2″ of lift because anything more would void their warranty, have I got news for you.  I just got out of an exclusive MOPAR press conference entitled 'Trail' Initiative and was informed that MOPAR itself will now be selling not just a lift kit for the very first time in its long history, but a 4.5″ long arm kit at that!!  Yes, you heard me right, a LONG ARM KIT and to be more specific, it will be a repackaged version of the radical front and rear radius arm design Rubicon Express 4.5″ kit.
From what I learned in a long conversation that I had with Chrysler suspension manager of Jeep Performance/Dodge Off-Road and MOPAR Parts, Keith Montone, I learned that MOPAR had actually been working with Rubicon Express for almost two years now developing and endurance testing this lift kit.  And, with blessings from Chrysler, I've been told that this kit will now have an official MOPAR part number and, if you can believe it, will be available for purchase right from your local dealership parts counter.  
Now, in addition to this astounding announcement, I've also learned that MOPAR has plans to get more involved in the aftermarket performance off-road parts business and has plans to develop things like 4.1 transfer case upgrade kits, replacement gears, cold air intake systems and complete axle assemblies and all under the new branding of Jeep Off Road Technology or ORT for short.  Need I say, this really is terra incognito for all of us but I for one am excited to see MOPAR getting more involved in helping our Jeeps to grow and look forward to seeing where all this will go.
To see photos from day 2 of our SEMA 2007 Pre-Show Coverage, simply click on the banner above or on the link below: