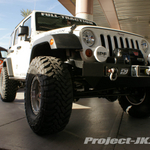 Well, I'll be honest and tell you that I did have my doubts as to whether or not we would be able to have our Jeep JK Wrangler finished in time for the 2007 SEMA Show.  And, although I didn't get a 4″ long arm kit, PUREJEEP Rocker Guards and PUREJEEP Tube Fenders installed as was originally planned, the guys over at Full Traction did pull a really late shift on Friday and were able to get the 3″ Ultimate Lift Kit I had upgraded with all new 4″ Ultimate Lift Kit components so that I could fit a set of 37×13.50 Toyo Open Country M/T's mounted on a beautiful set of unfinished 17″ Walker Evans beadlock wheels.  Need I say, this really is an outstanding setup and one that'll make a Jeep JK Wrangler Unlimited look seriously bad ass!!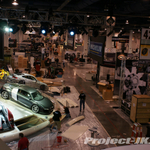 With everything as done as we could get it, we left for Las Vegas on Saturday at about 4:00 PM and showed up in town at about 9:00 PM.  Today, we spent the better part of the morning detailing our Jeep JK Wrangler and then got it checked in at the Las Vegas Convention Center around noon.  As luck would have it, we ended getting to the convention center a bit early and was fortunate enough to get our JK parked in a very sweet location outside in the main thoroughfare and near to the Car Crazy TV show stage.  And, speaking of crazy, I can tell you that is exactly what it's like here now.  Quite literally, the convention floor is strewn with crates, back drops, displays, props and people running everywhere trying to dodge renegade forklifts buzzing around and vehicles trying to make their way to their designated booths.  In fact, at a glance, you'd almost get the impression that you walked into some kind of a post war refugee camp and might even find it hard to believe that in a few short days, this place will be transfomed into a mecca of glissening toys being shown in their very best form.
Now, I know you all want to feast your eyes on some of the sweet candy rolling in here and to help hold you over until the official start of the show this coming Tuesday, click on the link below to see a few of the shots that Cindy and I were able to nab today:
SEMA Show 2007 Special Pre-Show Photo Gallery

Be sure to check back soon as we will be providing updates, news, info and a ton more photos on a daily basis.
Eddie