One of the things that makes the all new 2007 Jeep JK Wrangler so cool is that unlike any other Jeep Wrangler before it, this thing can be made to clear 35″ tires or more with little more than a moderate 3″-4″ short arm suspension lift and without any problems.  Well, almost without any problems anyway.  Of course, with bigger tires comes the need to regear your axles to a ratio designed to accomodate them and while the new Jeep JK Wrangler still uses a Dana 30 (or Dana 44 up front for the Rubicon Models) and a Dana 44 in the rear, it turns out that the ring and pinion used is not the same design as previous years and so nothing had been available to those in need of regearing.  I say "had" because with the expert help of Off Road Evolution, Superior Axle & Gear has just become the very first aftermarket manufacturer to produce, install and test a prototype 4.88 and 5.13 ring and pinion for the Dana 44 rear axle.  And, I'm happy to say that they will be installing and testing a front set today.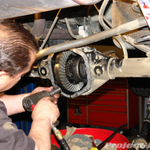 Unfortunately, I wasn't able to cover the installation and testing of the 4.88 gears that went into Kevin McNulty's 4Wheel Drive & Sport Utility Rescue Green Jeep JK Rubicon Unlimited that's sitting on top of 35″ tires, but I was fortunate enough to cover the 5.13's that went into Mel Wade's Off Road Evolution Silver JK Sahara Unlimited that's sitting on 37″ tires.  And, after going for a test drive before and after the installation, I can tell you that the results are outstanding!
Now, I should note that when I went out for the first test drive, I was actually pleasantly surprised at how well the Off Road Evolution JK ran on 37's even with stock 4.10 gears.  Granted, it was nothing to write home about but it was certainly more tollerable than I was expecting.  However, once the new Superior 5.13 gears were installed, I'll tell you, Mel's JK bit in right off the line, moved like it had purpose and pushed those 37's like they weren't even there and with ample power to spare.  As far as real performance numbers go, according to the Lorance GPS unit that Mel has in his JK, he was now able to do 75 MPH at 2500 RPM in 4th gear whereas he couldn't even do 75 MPH in 4th before the regear.  Need I say more.
To see photos of the prototype Superior 5.13 ring and pinion, comparison shots of it next to the factory 4.10's and installation photos, click on the link below:
Superior Axle & Gear Jeep JK Wrangler 5.13 Ring & Pinion Installation
Eddie
Special Thanks:  I would like to thank Superior Axle & Gear and for giving me the inside scoop on this much desired new Jeep JK Wrangler product and Off Road Evolution for allowing me to observe the installation of these new gears and to test them out.