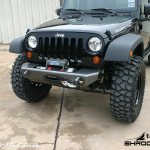 For those of you who have been around the world of Jeeps or off-roading in general, you're more than likely to know who Shrockworks is and all the great bumpers and rocker guards they have been making for years now.  And, if you've been holding out on armoring up your new Jeep JK Wrangler until you could see what they will be making, you won't have to hold out for much longer.  I just got word from Shrockworks today that they've just completed their new JK Shorty Front Bumper as well as Frame Mounted Rock Sliders for the JK Unlimited and you can see a couple of teaser shots of both by clicking on the link below:
ShrockWorks Jeep JK Wrangler Bumper & Rock Sliders 
From what I am told, they will be heading out to the trails today to do some testing of their new bumper and rock sliders and I hope to have more pics and details to share with you by the weekend.  So, be sure to check back soon! 
Eddie