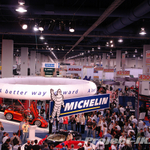 Well it's the 4th and final day of SEMA 2006 and unfortunately, I've just barely had a chance to scratch the suface of all the things I've wanted to see at this amazing show.  No joke, this place is just so ridiculously HUGE, I think you'd need something closer to two weeks or more to cover it thoroughly.
Anyway, as I mentioned in my previous post, I tried to spend the entire day yesterday talking to as many manufacturers as I could and take detailed notes of all the products they had on their Jeep JK Wranglers.  Of course, this would include information on the type of suspension lifts they were running, parts and accessories they were wearing and what kind of tires and wheels they were standing on.  And, over the course of the week to come, you can be sure that I'll be posting a series of articles highlighting these products.
Until then, click on the banner above to check out some new Jeep JK Wrangler pics that I just uploaded into the photo gallery this morning.
Eddie