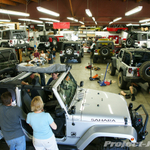 One of the things my wife and I really enjoy doing is having install parties at our house.  These parties give us a chance to meet and make new friends in the SoCal area, help them to build up their Jeeps and help educate them about it as well. For the most part, these install parties have involved one or two members of JK-Forum.com needing some work done on their Jeeps and typically, we would be able to get a few additional people to come by as well to help out or just to hang out and have some fun.  Of course, when we planned this party back in July, it never occured to us that it would become the fun filled event that it turned into.
With as many as 15 Jeep JK Wranglers signing up to join us for our party, eight of which would be coming for some help, it became very clear to us that we might have a small problem on our hands.  Although several of the Jeeps needing help were just coming to have some simple mods installed like 4xFix steering stabilizer and EVAP relocation brackets, the rest were coming to have things like a budget boost installed, a front bumper installed, a rear bumper installed, control arms installed, control arms adjusted, a body lift installed and drive shafts installed.  Needless to say, I didn't think having all these Jeeps over at my condo would sit too well with my neighbors or the association but as luck would have it, Mel and Lisa from Off Road Evolution caught wind of what was going on and offered up a solution that I simply couldn't refuse.
Even though our install party was planned on a Sunday and on a day that was actually Mel and Lisa's wedding anniversary, they still generously offered to open up their shop and allow us to have our party there.  Granted, we wouldn't be able to use their lifts or most of their tools, but we still would get a large area to work with and that was exactly what we needed.  In all, we were able to get as many as five Jeeps inside and worked on all at the same time and that allowed us to keep things moving right along.  And, in true Jeepin spirit, many of the people who came to our party did so not because they needed help with their Jeep but rather, came to lend a hand and help other Jeepers in need. When all was said and done, everyone who came for some help got it and that was all that I could ever hope for.
If you weren't able to join us for the fun at our SoCal Summertime Install Party, be sure to check JK-Forum.com for future events as we do have them all the time.  In the mean time, if you would like to see a few pics from the party, simply click on the link below:
Project-JK.com SoCal Summertime Install Party 2008 Photo Gallery
Eddie
Special Thanks: I'd like to give a BIG special thanks to Mel and Lisa at Off Road Evolution for their generous hospitality.  I'd also like to give thanks to Woods from 4xFix for coming to the party, helping to install products and for providing pizza for everyone.  Of course, I really need to give thanks to our moderator Jen (toad) for bringing snacks and drinks and for helping to organize things and to Mark (Rubimon) who's only purpose for coming out was to offer a hand and help others out and boy did he ever do a lot of that!!