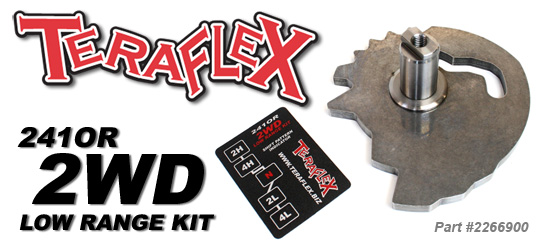 Having completed almost a year of extensive testing and without any glitches or failures to speak of, TeraFlex is finally releasing it's long awaited Jeep JK Wrangler Rubicon 241OR – 2WD Low Range Conversion Kit.  With this kit, you will now have the option to take advantage of your Jeep's 4:1 transfer case low range and allow you to maintain the use of your rear locker but without needing to have your front end engaged as well.  Of course, by doing this you will effectively free up any 4WD related steering bind and this will help make negotiating tight sections of trail a lot easier.
Below is the official press release issued by TeraFlex:
TeraFlex JK Wrangler Rubicon 2Low 241OR
Murray, Utah- August 12, 2008.  Tera Manufacturing, Inc., manufacturer of TeraFlex suspensions, body protection equipment, low range gearing and HD axles, introduces the newest low range component for the JK Wrangler.

The TeraFlex 2Low 241OR for JK Wrangler Rubicon models will increase your standard low range shift pattern to include a rear 2WD low range option. This increases trail turning ability by allowing tighter turns on narrow switchbacks, and eliminates most front end steering bind associated with 4WD. The 2Low kit is a completely internal modification and does not require any other modifications to the transfer case housing or components. Installation can be done with the front half of the transfer case remaining in the vehicle.

TeraFlex products are available direct, or through authorized TeraFlex Dealers. For a complete list of Dealers in your area, or to purchase direct, contact TeraFlex at 801-288-2585 or visit them on the web, http://www.teraflex.biz/.

About Teraflex – Since 1997, TeraFlex has had a dominant hold on the Jeep market. TeraFlex was the first suspension manufacturer with a suspension system for the TJ Wrangler, and is still the only aftermarket company to offer a solution for the venerable 231 transfer case's low range gearing. Continuing their stronghold, they offer the most comprehensive list of performance components for the JK Wrangler of any other manufacturer to date.
The TeraFlex Jeep JK Wrangler Rubicon 241OR – 2WD Low Range Conversion Kit is a useful and highly functional upgrade that I think anyone with a Rubicon will want to have.  And, with a low retail price of only $230.99, it is also a very affordable one as well.
Eddie