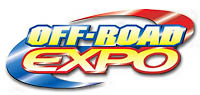 For those of you who live in Southern California (or are willing to drive there), you had better mark your calendars because the 2006 Off-Road Expo is coming to town.  And, if you're dying to see a few hooked up 2007 Jeep JK Wranglers, this will be your chance as I know several manufacturers such as Full Traction Suspension and Kilby Enterprises will have theirs on display there. 
The 2006 Off-Road Expo will be presented at the Fairplex in Pomona, CA., Saturday, October the 7th – Sunday the 8th.  Doors open from 9:00 a.m. to 6:00 p.m. on Saturday and 9:00 a.m. – 5:00 p.m. on Sunday.  Admission is $12.00 for Adults and Children under 12 are free.
If the show is anything like it was last year, I can guarantee that you'll have a great time.  Me, I will most likely be there all day Saturday and Sunday and if you want to say hello, you can find me wherever the JK's are.
Eddie
FYI: Fairplex Pomona is located at 1101 W. McKinley Avenue – Pomona, CA 91768