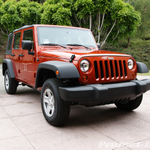 While it had always been our plan to buy and build up another Jeep JK Wrangler, we weren't expecting to pick one up until the 2010's came out.  The hope was that there would be some kind of significant change to the JK's engine or at bare minimum, an introduction of a new color that just blew us away.  Of course, thanks to the current status of Chrysler, the prospects of any real changes worth waiting for simply aren't there (or so my sources say) and the only new color to be expected was the new Surf Blue and I wasn't really feeling it.  Needless to say, with dealers needing to move product and great incentives being offered up by Chrysler, we figured that now was as good a time to buy as any.  And, as luck would have it, we found just what we were looking for yesterday and brought home the newest member of our family – a brand new, Sunburst Orange 2009 Jeep JK Wrangler Unlimited X.
Truth be told, we originally went in looking for another Rubicon but after giving it some thought, we figured that most of what makes a Rubicon what it is were things that we were just going to pull off and so, we decided to save the 10 grand and use it for upgrades.  So, we started looking for a Unlimited X with no frills and no thrills – just the basics.  Initially, we found a real nice one with half doors at a dealership in Cerritos and were all set to buy it but the guys there were complete jerks determined to make me pull teeth just to get a reasonable price.  Their attitude was essentially that I needed to be doing them a favor if I hoped to buy this Jeep and it just wasn't going to happen.  I'm all for a guy needing to make a buck but the obnoxious attitude I was getting from them alone was enough to make me get up and leave.  I would have given them the finger as I walked out but I knew they would be calling on me and that put a smile on my face.
On our way home from the dealership in Cerritos, we decided to make a stop over at Orange Coast Jeep in Costa Mesa.  Our good friends Jeff and Megan told us that they bought their JK there and got a real good deal.  And, having used them in the past for service work that we needed done on our current white Rubicon, we figured why not give them a try. And, as luck would have it, just as we walked onto the lot, we saw a beautiful Sunburst Orange Rubicon with everything we could want and convinced ourselves that maybe we really do want a Rubicon instead.  Excited once again, we found ourselves a salesman and got the ball rolling.  Based on what we saw on their website, we knew that we could expect to see about $4000 off the sticker price and we were satisfied with that.  Of course, once we were presented with the numbers, we found ourselves looking at $1000 off at most and we would end up paying way more than we were expecting.  Trying my hardest not to get pissed, I explained what I had seen online and he in turn asked when I saw this information.  I told him that I had seen these prices that morning and so he went back to talk to his general manager about it.  When he came back, he informed me that this was not correct and that I must be mistaken.  He continued to say that they had no reason to not be upfront about their prices as if I were to catch them lying to me, I could end up getting the Jeep for free for false advertisement.  Feeling a bit of doubt, I let him know that perhaps I misread the information and just as I let him know that we would be going, my wife Cindy pulls up their website on her iPhone and shows the salesman their website and with the price listed on it WITH $4,000 in incentives!
Backpedaling big time, the salesman goes back, gets his general manager to come out and informs us that they will honor the price we saw on online.  Only problem now is that Cindy and I weren't really in the mood to spend $30,000 anymore and were just going to leave.  But, just by chance, Cindy still looking on her iPhone, she sees that they also had a basic Unlimited X with full doors and so I ask if we can see it.  The salesman checks and lets me know that they do in fact have this X but, it was taken apart and having aftermarket componets being installed on it.  I ask if we can see it anyways and he agrees to take us to it at another facility.  When we get to this other JK, it was racked up, had its wheels off and already had new bumpers on it.  Giving it closer look, we see that it's an automatic, has cloth seats but is otherwise a pretty basic Jeep.  After a brief discussion with Cindy, we decide to take it if the price is right and ask them to return it back to its original condition.  Checking their website once again, we see that there is a $4,000 discount on it as well and insist that we get it for the price listed.  When all was said and done, we ended up getting this JK which came with an automatic transmission and way more features than the other one we saw in Cerritos and for about $2,000 less than what they were willing to sell it for.  And, even though our experience buying our JK here may not have been the best in the world, we did get what we wanted and for less than what we were expecting to pay so, it all worked out well.  So, here's to the newest member of our family, let the modding begin!
Oh, did I mention that I have been getting calls all day long yesterday and today from a certain Jeep dealership in Cerritos?  I wonder what they could want.
Eddie