SEMA is a show that I look most forward to going to every year as it is by far the biggest and the best and filled with all kinds of beautiful vehicles and new aftermarket products to drool over.  Of course, as we all know, the economy has been anything but stellar and so, I had purposefully lowered my expectations this year and hoped for the best.  Unfortunately for me, I hadn't lowered them enough and was stunned to see how empty the show was.  Sure, the folks who put on SEMA did a good job of spacing things out and moving things around to help compensate for the lack of attendees but, even the best comb-over can't hide the fact that a guy is going bald.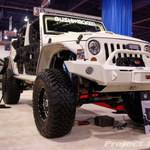 So, was it a total bust?  Was there really nothing to see?  Yes and no.  While there were still a lot of JK's and products on display for them, most were things that had been out for a while.  Of the SEMA specific builds on display, only one really stood out like a SEMA vehicle should and that was the Bushwacker JK that was made by COP4X4.  Predominantly in white with a few black accents such as the COP4X4 Nack Rack and Nack Doors, this JK looked like a diamond in the rough – built for hardcore wheeling but too pretty to scratch.  But, being this was SEMA, that's what I would expect to see.  Having said all that, even this wasn't really anything new as photos of it and ALL the other JK's on display had been posted up months before over on JK-Forum.com.  Maybe I'm just being a bit nostalgic but, I kind of liked it back when the things were more like opening up presents on Christmas day.  Oh well, I guess with today's information on-demand, all the time and anywhere you go, that would be a lot to ask.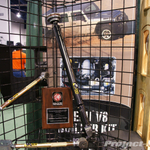 As far as new products go, there are definitely a few that are worth mentioning including the new AEV direct replacement front drive shaft.  Of course, one of the biggest problems that people have after lifting their JK's 3″ or more and have an automatic transmission, is that the boot on the front drive shaft catches on the lip of the transmission pan at a full droop and this causes it to tear off.  And, while the solution to this is as simple as installing a new aftermarket U-joint style drive shaft, most of the ones already available today require you to replace the pinion and output shaft yokes.  Of course, what makes the new AEV direct replacement drive shaft so nice is that it bolts right up to the existing factory pinion and output shaft flange making this job super easy to do.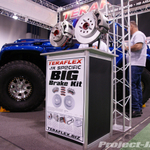 While TeraFlex was showing off their new CRD60 front axle, I was told that it wouldn't be available for sale until the beginning of next year.  However, they did have a few other new products that I thought were worth mentioning and they were the all new JK Big Brake kits and reservoir shocks made by Elka Suspension.  With JK's being built bigger and heavier than ever before and pushing much bigger tires, bigger brakes are a real welcome sight and while Elka has never done anything for the automotive industry, they have a long history and very good and reputation in the off-road industry and I can only imagine that they have applied all that they know into these new shocks.  I will tell you that I did also see a newly redesigned dual rate sway bar system but, something very similar was released a few years back and never made it to market so, until these start shipping and see people start wheeling with them, I think I'll hold back on the fan fair.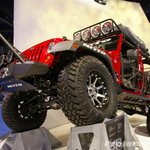 Although it was modest in it's build, I was excited to see that Off Road Evolution had a beautiful red 4-Door JK flexed out over at the Nitto Tires display and in a way that did a great job showed off their all new short arm suspension kit, re-designed rocker guards and rugged new roof rack.  Also featured on this build were custom valved shocks made by King specifically for Off Road Evolution and a an awesome front Dynatrac ProRock 44.  Truly, this JK was a sight to see especially when juxtaposed to the beautiful and very classy gals dressed in evening gowns presenting it in great detail.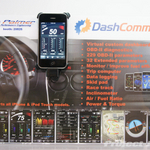 Now, if there were just one or maybe two products that really stood out for me, it would have to be the all new DashCommand by Palmer Performance Engineering Inc and the Kiwi Wifi+iMFD by PLX Devices Inc.  Retailing for only $29.95, the DashCommand is a basic OBDII Scan Tool application for your iPhone that is designed to provide trouble codes, clear check engine lights and serve as a virtual dashboard providing information for things like fuel economy, HP, torque and much more.  The Kiwi Wifi+iMFD is a bit more expensive at $249.99 but it comes complete with OBDII connector that allows you to wirelessly connect your vehicle's OBDII port and aftermarket sensors to your iPhone or iPod Touch.  It is compatible with PLX iMFD sensor modules such as Wideband AFR, boost and more.  Needless to say, these iPhone apps are affordable, easy to use and is something that anyone and everyone could use and if there were to be a product or products that I had to call "Best in Show", these would be them.
To see all the JK's that we covered at the 2009 SEMA Show as well as some Challengers, Camaros, Mustangs, and more simply click on the link below: