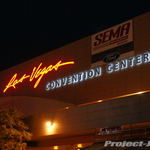 If there were ever any doubt that times are tough, taking a quick look around here at the 2009 SEMA Show in Las Vegas, Nevada, would be all the proof you needed to cast that doubt away.  Granted, the show doesn't officially start until tomorrow but, compared to years past, there is definitely a significant and visible decrease in the amount of manufacturers setting up and vehicles being put out for display.  In fact, this is the very first time that I know of where featured vehicles intended to be shown outside are actually being brought inside the main performance hall (an area typically filled to the max with manufacturers) to help fill in gapping holes in the floor plan.  And, while it's always been one of the smaller sections at SEMA, the Off Road Hall is smaller than ever before and only extends to about half its normal length this year.  Having said all that, there is still an optimisim in the air that the thinning process is almost over and that things are about to start changing for all those who have survived it and for our purposes, we'll do what we can to show you who they are and what they brought out to show.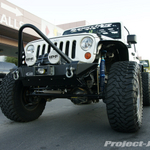 Speaking of which, we are once again showing our big white Jeep JK Wrangler for the 3rd time in a row here at the 2009 SEMA Show and this time as a featured vehicle for Superchips.  And, thanks to the fact that we were able to get setup early, we've been able to spend some time taking pre-show pics of a few of the JK's on display and they can now be seen by clicking on the banner above or on the link below:
Project-JK 2009 SEMA Show Photo Gallery
Be sure to check back again and on daily basis this week as we will be posting up a ton more pics!