If there ever was any doubt about the aftermarket industry's commitment to developing new products for the Jeep JK Wrangler, I think the 2007 Off Road Expo in Pomona, California has effectively put it to rest.  With no less than 25 JK's on display wearing the latest and the greatest from manufacturers such as Full Traction Suspension, PUREJEEP, Currie Enterprises, M.O.R.E., Rock Hard 4×4 Parts, Rancho Suspension, Tuffy Secruity Products, Expedition One, Garvin Wilderness Racks, Rubicon Express, Hansons Off Road, ARB, WARN, Kilby Enterprises, Body Armor, Durango 4×4 and KC Lights, I think it has become quite clear that the JK market has now taken center stage and that all eyes will be focused primarily on it.  Or, at least for the next 10 years anyway.
So, now comes the answers to the questions that I have been getting asked again and again from those who weren't able to make it out to the show… what were some of the hottest new products that I saw and who were they made by?  Fortunately or unfortunately, there were so many hot new products at the show that the best I can do is to try and highlight some of the ones that stuck out the most for me.  And, I will try to do this by breaking things down in to three main categories: 1) suspension lifts, 2) armor, and 3) bumpers.  Of course, there were quite a few products that don't fit into any of these categories but that do deserve a mention and I will try to cover them as well.
When it comes to suspension, by far the hottest product on display was the all new Full Traction Jeep JK Wrangler Long Arm kit.  At least, it was the very first time I had an opportunity to see it in person and let me tell you, it was absolutely everything I would expect from a company like Full Traction.  Available in a 4″ and 6″ configuration, this kit is a complete replacement suspension system for your JK capable of handling 37″ tires with ease, utilizes a 4-link front axle mounting configuration as opposed to using radius arms, is the only kit that I know of to use a true long arm rear 4-link setup, has massive lower control arms constructed out of beefy 2″ x .250″ wall DOM tubing, comes with beautifully welded new mounting brackets made out of laser cut 1/4″ plate steel and to top it all off, it's a bolt on kit that requires no welding.
While there were plenty of other great suspension lift kits on display at the show including ones made by Rancho Suspension, Rubicon Express and Superlift, most of these had already been unveiled back at SEMA 2006.  However, there was one other new entry into the JK suspension market worth mentioning and that would be the all new Currie Enterprises Rock Jock JK Suspension System.  Designed to be installed using the JK's factory mounts, this very complete kit includes features such as a set of 4 new variable rate coils that offer up to 11″ of travel, 8 Johnny Joint adjustable control arms, stainless steel extended brake lines, a dropped pitman arm, rear spring retainers and super beefy front and rear track bar relocation brackets that do require welding, but are totally worth it.  As featured in the Currie display, their JK was easily clearing 37″ tires, came equipped with front and rear adjustable track bars and front and rear Anti-Rock sway bar systems.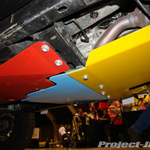 By far, one of the things that every JK owner has been waiting for with great anticipation is some high quality armor to protect the body and belly of their Jeep.  And, one of the first companies I'd like to highlight that has done an excellent job of answering this call in spades is Rock Hard 4×4 Parts.  More than any other company out there today, Rock Hard is the only one to have developed a complete set of armor plating designed to protect everything under your JK including the oil pan/engine, transmission/transfer case, EVAP canister, muffler and the one thing that everyone including me has been wanting, a heavy duty gas tank skid plate.  Need I say, rocks won't have a chance against your JK if it's Rock Hard protected.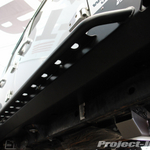 Because the rockers on your Jeep are often times one of the lowest points on your Jeep and are often times at the greatest risk of damage from rocks, a myriad of companines have been working on the development of guards or sliders to protect them.  And, of the ones that I saw at the Off Road Expo that I think are really worth noting are a set made by Body Armor that attaches to the factory pinch seams, the form fitted body mounted set made by PUREJEEP as well as a form fitted body mounted set made by Rock Hard 4×4 Parts and Mount Logan Off Road.  Now, what I liked about the Body Armor rocker guards is the fact that they are simple in design and bolt right up to your JK without any drilling required.  Regarding Rock Hard and Mount Logan Off Road, I liked the fact that their body mounted rocker guards provided a clean factory look, doubled as a viable side-step and offered substantial proctection underneath the rockers and clear back to the frame rails.  Likewise, what I really liked about the PUREJEEP rocker guards is the fact that they were body mounted, provided maxium clearance due to its tight fitting design and had a heavy duty tube extending from the side which offers your JK more protection from the rocks and thanks to the slip resistant dimple die plate on top, doubles as a great side step as well.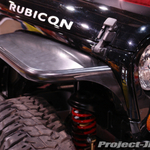 Thanks to the curved body line of the Jeep JK Wrangler, a nice set of tube fenders have proven to be one of the hardest pieces of armor to make and make in a way that doesn't look like a sorry afterthought.  Fortunately for us, we have companies like Mountain Off Road Enterprises, or M.O.R.E., to show us what a little engineering and quality craftsmanship can deliver.  With the exception of PUREJEEP, no other company has been able to produce a set of tube fenders that flow as nicely as the new M.O.R.E. fenders do and/or have the clean metal workmanship that they do.  Unfortuantely for us, pricing and availability on these fenders is currently unknown and I'm not sure when they will be known.  But, once they are, you know where to come to to find out.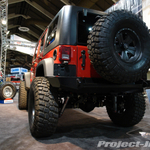 Without a doubt, heavy duty front and rear bumpers are the one thing you can be sure that more manufacturers will try to make than any other product.  Likewise, you can be sure there were a slew of them on display at the Off Road Expo including ones made by Mopar, WARN, PUREJEEP, M.O.R.E., Garvin, Fab Four and AEV.  But, of all the ones that I saw, the only new ones on display that were worth mentioning were ones made by Expedition One, Hanson Off Road, ARB, Body Armor and Durango4x4.
Now, for those of you who've been keeping tabs, the Expedition One full width front bumper had been introduced almost a year ago in the form of a CAD drawing and as you can imagine, fans of it were begining to have their doubts that it would ever be made.  But, after seeing it up close and in person, I can tell you that it really is here and it really is a well made bumper and one that was worth the wait.  Of course, what impressed me more than their front bumper was their rear bumper tire carrier. Certainly, its clean lines and nicely tappered ends made it a great looking bumper but the one feature that I really liked about it was the way its tire carrier was tied directly into the factory tail gate with reinforcement plates.  By doing this, a user could open both the tire carrier and tail gate in one simple step and another big benefit of this additional connection is that your spare tire will be as secure as can be and will not move or jiggle at all on rough terrain.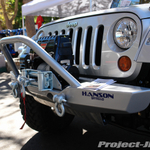 The other new set of bumpers that I really liked a lot were the ones made by Hanson Off Road.  Over the years, Hanson has become known for making some of the finest quality bumpers you can buy for a Jeep and they certainly have delivered the goods once again with their new JK front winch bumper that comes complete with stinger hoop and integrated fog lights and their matching rear bumper that come with a heavy duty tire mount that attaches to the factory tail gate.
For those of you who like the tried and tested look and design, the Garvin or Body Armor bumpers are going to be what you want.  Much like the TJ bumpers they make today and the first generation JK bumpers they made early on in the year, the Body Armor front bumper is essentially a 2×4 steel tube design but now comes with the added features of factory fog light cutouts and optional tube designs.  Likewise, the rear bumper has been refined and now has a cleaner finish as it meets the body.  Also, both the Garvin and Body Armor rear bumper now have a new 3rd brake light/rubber isolator feature that mounts onto the tail gate to help keep you legal and to help keep your tire carrier from bouncing around. 
Finally, some of the other products that I saw at the show that I think you'd want to know about are things like the Tuffy Security locking steel glove box.  Without a doubt, it is a great compliment to their locking center console and practically a must have for those of us who drive our Jeeps topless and doorless. Of course, for those of you who have a little more cash in hand, you might want to know that Dynatrac now has both front and rear axles available for the Jeep JK Wrangler and are designed to be a completely bolt in application. 
Honestly, there really was so much more to this show that I could go on and on about and if you want to see all 565 photos from it, simply click on the banner above or on the link below:
2007 Off Road Expo Photo Gallery
Eddie
Special Thanks: I'd like to give special thanks to Steve of Full Traction Suspension for inviting me to have both my JK and TJ showing in their display at the show.  I'd also like to thank David from Northridge4x4 for all the help you've given me and Mel from Off Road Evolution for dinner and your generous hospitality to me and the members of Project-JK.  Last but not least, I'd like to thank all the Project-JK members for hanging out with Cindy and I at the show.  We had a great time with you guys!