I think the hardest part about going to the annual Moab Easter Jeep Safari is that I usually have to spend the entire week leading up to it running around like crazy, trying to tie up loose ends at work and trying to get my Jeep ready for the trip. Of course, once I get back from Moab, I then have to spend the entire following week digging out from being away for so long. But, inspite of all the headaches, I can honestly say that going is always worth the trouble and, being able to go this year in my brand new 2007 Jeep JK Wrangler Rubicon Unlimited certainly made it the best trip out to Moab yet.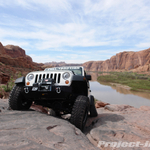 Without a doubt, the much longer wheel base, significantly quieter ride, extra doors, huge cargo capacity, great sound system and luxurious creature comforts, all made the 750+ mile drive out to Moab and back a dream. And, outfitted with a new Full Traction Suspension 3″ Ultimate Lift, 35″ Pro Comp Xtreme Mud Terrains, Superior 5.13 gears and PUREJEEP front and rear bumpers, I found that my Jeep JK Wrangler Rubicon Unlimited simply walked over just about anything I could throw at it including obsticals that I've struggled over in the past in my highly modified Jeep TJ Wrangler with 6″ long arm kit. The extremely flexible Full Traction 3″ Ultimate Lift provided amazing articulation on the trail, the Pro Comp Xtreme Mud Terrains provided the sticky grip I needed to work the slick rocks, the Superior 5.13 gave me back the power I lost upgrading to a larger tire (and then some) and the PUREJEEP bumpers did a great job of protecting my JK while providing maximum approach and departure angles just as they were designed to. All in all, if you are considering any of these products for your Jeep JK Wrangler, I would definitely recommend them.
Click here to see all the Project-JK 2007 Moab Easter Jeep Safari Trail Run Pics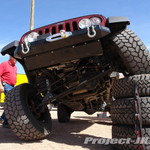 Another big highlight for me at this years Moab Easter Jeep Safari was being able to see so many hooked up JK's in one place, seeing them in action on the trails and being able to see all the new JK products coming our way at the vendor show. Some of these new products include a utilitarian winch bumper from Expedition One, a new stubby front bumper from Rock Hard 4×4 Parts, a great looking supercharger kit from Adventure Innovations, a radical 4″ lift kit from Nth Degree Mobility, the new AirROCK suspension from Off Road Only, a lift kit, clean looking rocker guards, dimple-die/tube front and rear bumpers from Poly Performance, sharp looking bumpers from M.O.R.E., bumper tire carrier from KC, flat fender flares from Xenon, a rear bumper tire carrier and roof rack system from Garvin, swaybar quick diconnects and shocks from JKS and tube bumpers from Smittybilt. I'm sure I'm forgetting a few here and there and I certainly didn't include all the manufactuers that had JK's on display with products that had already been released, but with so many JK's to see and talk about, I'm embarrased to say that it's kind of hard to remember it all. In fact, I'm not sure I've seen a greater collection of built up Jeep JK Wranglers since the Las Vegas SEMA Show back in November of last year and all of those were showroom bound.
Click here to see all the JK pics from the 2007 Moab Easter Jeep Safari Vendor Show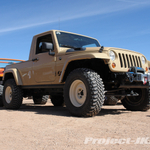 Now, if there was one thing I saw in Moab that everyone seemed to be talking about at the 2007 Moab Easter Jeep Safari, it would have to be way cool beige Skunkwerks "JT" or Jeep Truck concept vehicle. Not exactly a Gladiator (which was also on display), the JT was apparently built off of a JK Unlimited frame and utilized an Egyptian military body as a base to fab up this great looking light pick-up truck with removable cab and flat fenders. Although there may never be a market for a light pick-up in America again, I have to say that the sheer simplicity of it's design truly made this Jeep a real looker.
Finally, I'd have to say that meeting all of you, the great people that make Project-JK.com and JK-Forum.com the websites that they are today, was the absolute icing on top of the cake. Thank you for taking the time to stop by and say hello as the pleasure of meeting you face to face was all mine.
Eddie
Special Thanks:  I'd like to give special thanks to Full Traction Suspension for inviting me to display my JK in their vendor show booth.  I'd also like to thank Northridge4x4 for hooking me up with ARB recovery gear, Winchline synthetic winch rope and fairlead, 4 Wheel Drive Hardware for helping me out with the Pro Comp Tires and Wheels, Superior Axle & Gear for the new 5.13 gears, Off Road Evolution for helping me to get the gears installed, WARN for helping me out with a PowerPlant Winch and PUREJEEP for armoring up my JK with front and rear bumpers. Last but not least, I'd like to thank Trent Riddle for the photo shoot invitation up on the Moab Rim Trail and the chance of getting my JK on the cover of Off Road Adventures Magazine.  To see a few pics that we took during the photo shoot, click here.