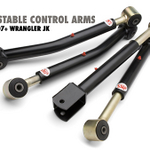 Alliance, NE – September 2008: As Jeep develops each new model to be more quiet, comfortable and capable than its predecessor, it becomes more of a challenge for aftermarket suspension manufacturers to keep up with new vehicle technology. The latest Wrangler JK model is an excellent example. Never before has this iconic 4×4 provided its occupants with such impressive ride quality or refined handling. Consequently, it's never been more important for suspension manufacturers to preserve these positive attributes.
Inspired by the challenge, JKS Manufacturing has just released a complete set of variable-length upper and lower control arms for Wrangler JK models. Considered the performance benchmark by Jeep owners around the world, JKS Adjustable Control Arms are well known for utilizing the finest materials and most reliable designs. While other control arms begin to wear out within months of being installed, JKS arms often outlast the vehicle.
The use of premium rubber bushings is one of the company's trademarks. In this case, the bushings are a brand new semi-bonded design exclusively developed for JKS. The bushings are not restricted by torsional stresses like vulcanized bushings, thereby making them more effective and reliable on extreme-travel applications. In fact, the semi-bonded design used by JKS may just be the quietest, longest lasting and most effective rubber bushing ever employed by an aftermarket suspension manufacturer.
Most other suspension manufacturers use polyurethane bushings, which offer very little noise and vibration suppression. Although durable, polyurethane bushings are often considered too noisy and harsh for the Wrangler JK. A few manufacturers are using the vulcanized rubber bushings carried over from the previous Wrangler model, but they don't match the benefits of the new semi-bonded design from JKS.
The company's new bushing design is only one reason why JK owners will want to consider these premium suspension links. Like all JKS Control Arms, the length can easily be adjusted without any tools for precise control of caster, pinion angle and tire clearance. In addition, each end rotates independently without binding thanks to ultra-durable rolled threads and an easy-to-lubricate internal brass bearing.
For more information about Adjustable Control Arms from JKS, visit www.jksmfg.com
Applications
For 2007+ Jeep Wrangler JK models
PN 6150 Lower Control Arms, front suspension
PN 6155 Lower Control Arms, rear suspension
PN 7150 Upper Control Arms, front suspension
PN 7155 Upper Control Arms, rear suspension