Perhaps it's just a sign of the times but of all the Off Road Expos I have attended to date, I'd have to say that this year's show was by far the smallest I have seen.  Clearly, there were a significant number of manufacturers and vendors who didn't make it out but to make matters worse, of the ones who did show, they were spread out across the fairgrounds and done so in a way to help fill in dead spaces.  Unfortunately, this just made the place look even more empty and if you were to have come out on Friday, you would have thought you walked into a show located in a ghost town as opposed to the Fairplex in Pomona, CA.
Now, am I suggesting that there wasn't anything worth seeing at the show?  Not at all.  In fact, I must admit that some of the things I saw, I found to be quite exciting.  Specifically, I think it's great to see the aftermarket industry embrace the Jeep JK Wranglers as much as it has and continue to push the envelope of what it can be made to do.  And, in my opinion, nobody is doing this better than Off Road Evolution.  With a total of six JK's on display flexed out or mounted in a flying position, I think that Off Road Evolution did an excellent job of demonstrating how well their new EVO Flex front coilovers and rear EVO Lever kits work with 37″-40″ tires and on just about any long arm kit and short arm kit available on the market today.  Thanks to it's innovative design of using a cantilever setup, the EVO Lever system allows you to install coilovers in the rear of your JK as a bolt up kit and without having to perform major surgery to make it happen.  Installed front and rear, the EVO Flex System will allow you to run up to 37″ tires on a short arm kit, 40″ tires or bigger on a long arm kit, provide an incredible range of ride height/ride quality adjustments and of course, a mind blowing amount of flex.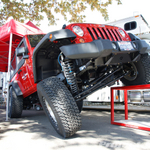 If there was any doubt that big flex is what's hot, Currie Enterprises debuted their awesome new 2-Door JK sitting on Rock Jock control arms, 37″ tires and triple bypass shocks offering up to 14″ of travel!!  Just to clarify things here, we're talking a HUGE amount flex, on short arms and if you can believe it, without the use of coilovers front or rear.  How did they do it?  Well, up front, they installed taller shock towers as one might expect but in the rear, they were able to do it through some very creative relocating of the upper shock mounts and by designing some crazy looking coil springs to go with it.  Of course, the Rock Jock control arms play a big roll in making all this possible as they come with Johnny Joints on both ends and they offer an extreme amount of flex and without any bind.  The more I see it, the more I am convinced that short arms may in fact be all that you need on a JK and, once the details are hammered out, I have little doubt that this Rock Jock kit will be a hot item.
While a long arm kit may not be "needed", there really is little argument that having one installed on your JK would offer significant benefits.  Certainly, with longer control arms, you can install a considerably taller lift while maintaining suspension geometry close to stock.  This in turn offers a great ride on pavement and also provide great flex on the trail.  And, of few JK's that came to Expo with long arm kits installed, I have to say that the one made by RockKrawler was by far the most unique and it certainly caught my eye.  Aside from having front coilovers and an impressive amount of flex, what I found to be most interesting about this lift is its 3-link setup both front and rear.  Up front, this is achieved by eliminating the passenger side upper control arm and in the rear, a single arm attached to a center cross member is secured to the top of the rear differential. While track bars are still needed to make this work, I suspect that there would be very little in the way of binding with this setup.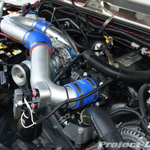 With so many of us now sitting on 37″ tires or larger, one of the things I think we're all looking for is a bit more power to push them along.  And, while a HEMI would be a dream to have, the cost to make it happen is… well, let's just say, a bit cost prohibitive for most.  Needless to say, that's a big reason why so many of us are now looking into Super Chargers, but, based on what's available today and all the headaches that go with them, I'd have to say that I've always been a little reluctant to go that route.  However, after talking to RIPP Super Chargers at length, I will have to say that reluctance is starting to fade.  Certainly, Ross, the owner did a great job of explaining how their system works with what's already in place and because of it, works without any problems guaranteed.  And, when you factor in cost versus the amount of boost you will see, going this route is starting to sound like it just might be the way to go… at least for me anyway.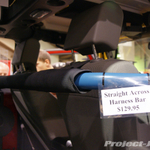 On Saturday, I walked the show with a large group of members from JK-Forum.com and oddly enough, the one item that seemed to catch the most attention was none other than the all new Rock Hard 4×4 front seat harness bar.  While this bar is attached easily enough to the roll bar on a 2-Door JK using the Rock Hard Sport Cage Clamps, getting one to attach to the B-Pillar on a 4-Door Unlimited was somewhat more of a challenge.  Or, I should say, at least if you didn't want to cut up the interior B-Pillar trim like crazy.  Fortunately, Rock Hard was able to come up with a solution that works well, requires only minor trimming, looks great, is 100% up to the job of keeping you strapped in and if that weren't enough, they also have a rear harness bar to go with it.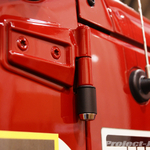 A few other cool things that caught my attention were the new PUREJEEP Mid-Width Front Bumper, Tuffy Security JK Door Locks and direct bolt-in Mastercraft Seats that are available with optional Camelbak hydration pouches attached to the backs.  Aside from that, most everything else were things that have been out for sometime now and covered before.  But, with SEMA right around the corner, I'm gonna bet that the real meat and potatos are going to be found there.  Or, so I hope anyway.
To see all the photos from the 2008 Off Road Expo, click on the banner above or on the link below:
2008 Off Road Expo Photo Gallery
Eddie