Many of you have been asking about Falken's new AT. How good are they? How strong are their sidewalls? How do they rate in sand, dirt, gravel, rocks, mud, and on the highway? After abusing this tire for over 1000 off-road miles at the Jk-Experience last week, here's what I can show and tell from my first hand experience.
You name it, we did it. From low country to the high tundra we pushed this tire as hard as we could. We covered paved roads, dirt, gravel, rocks, Mud and Sand.

On the Highway these tires were smooth and quiet. We ran them at 30psi at highway speeds and with the radio on we had no trouble holding a conversation or hearing the CB. They tracked straight and cornering was predictable. Here's a quick video clip. The mic on the phone is not the best but the passenger window is down.
http://www.ustream.tv/flash/video/9406864?v3=1
On dirt and gravel roads they tore it up. At times reaching 50+mph the Wild Peak held its tracks and stayed steady. Some days we were covering some serious miles on dirt and gravel roads and this tire didn't complain once. Aside from normal wear, I expected to see chunking or cuts in the tread after these sprints but I couldn't find them. From what I have seen Falken has a winning rubber formula in these.
http://www.ustream.tv/flash/video/9548972?v3=1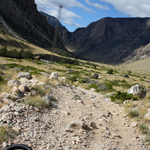 On slick rock and boulders as well as sharp rocks, these tires were TUFF! The 3ply sidewall flexed hard while the tread grabbed and pulled us up over boulders and through jagged rocks. At times we found ourselves in pinched situations where almost all the vehicles weight was on the tires sidewall, it only seemed to hold stronger as we took our time maneuvering through the obstacle. At other times in tight corners against tall jagged rocks, the sidewall literally redirected our fully loaded 4dr Rubicon without scarring or puncture.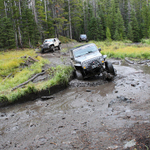 When it came to mud, we knew it would be a challenge. No AT is built for mud but we wanted to see how the Wild peak would do anyway. To our surprise, in our mud conditions, it did pretty well. Sure, if we stopped in the wrong place or didn't have enough momentum we would have been in knee deep mud but with the peddle to the floor and some smart steering we were able to lap around a few others with MT's that were stuck. Did they cake up with mud? Yep, so did the KM2, the MTR with Kevlar, the Mud Grappler and the Krawler. Here's a little video from the mud. If you know you're in mud a lot, this tire is probably not the best for you but for moderate mud that you find along the trail it may not a bad choice.
http://www.ustream.tv/flash/video/9488314?v3=1
Our last test was the sand. With the air pressure down the Idaho Dunes were no match for the Wild Peak. We climbed some of the tallest dunes we could find and we often found our selves accelerating up them. If we parked on the dunes wrong or waited to long to turn down a dune would we get stuck? Yeah sure we would, but no tire can compensate for lack of smart driving.
Video clips from in the sand:
http://www.ustream.tv/flash/video/9548790?v3=1
http://www.ustream.tv/flash/video/9548754?v3=1
All and all I give this tire two big thumbs up. The Off-road category is new to Falken Tire and they are headed full speed in the right direction. Its not often that you see such a successful product right out of the gate. I am more and more interested to see what comes from Falken Tire next in the off-road category.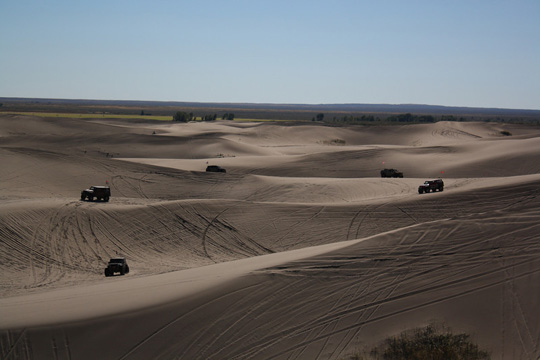 For more information on this tire please stop in to your Local Discount Tire, America's Tire or call Discount Tire Direct @ 1.888.459.4080.
You can also find more information from your computer at home at 
www.discounttiredirect.com
-Travis
Discount Tire Co.