Well, inspite of the moonless night we were guaranteed to have and being up in an area that was about as dark as dark can be, I'd have to say that the Perseid Meteor Shower we went up into the Sierra Nevada Mountains to see was more or less a bust.  But, with a total of 7 Jeep JK Wranglers and 15 really great people along for the ride, I'd also have to say that the Project-JK Perseid Meteor Shower Trail Run/Camping Trip up was an absolute blast.
In an effort to find a nice dark place to view what should have been an amazing cosmic display, we decided to make a run up to Coyote Flats which is located about 15 miles southwest of Bishop, California.  Now, why would a bunch of SoCal guys and gals make such a long trek up north just to see some shooting stars?  Well, for one, it really is amazingly beautiful up in the Sierra's and I love it there.  For two, with no major cities around, the night skies can be inky black when no moon is present and for three, even though the day time temps down in Bishop was hovering at about 100°F, the day time temps up at 10,000+ ft. was in the mid to low 60's.  And, last but not least, doing a trip this far aways almost demands that it be an overnight camping trip and what can I say, we love to camp especially when it's backcountry style.  Unfortunately, the peak of the Perseid Meteor Shower was supposed to be at about 3:00-4:00 AM on a Monday morning and as you can imagine, that pretty much kept a bunch of folks from being able to make the run.  However, for those of us who were able to find a way to play hookie for a day, we decided to kick things up a notch, meet up on Saturday and extend things a bit by making this trip into a full blown, fun filled two nighter.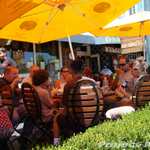 After meeting up with Jen (toad) and Bullfrog (Jeff), John (jkjeep), Rizzo and Isabel, Doug (TrailBud) and Ryan, Matt (doojer), Heather (doojette) and Nick over at Schat's Bakery in Bishop, CA, to have lunch, we picked up some last minute provisions, topped off our tanks and then made our way across town, down West Line Street/HWY 168 and to the Coyote Flats trailhead – Route 7S10.  And, by the time we made it out to the staging area to air down, it was about 1:00 PM and the day time temps were in the high 90's as expected.  Need I say, getting up the mountain as quickly as we could was definitely high on the agenda.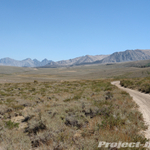 Now, the climb up to Coyote Flats is about 9 miles long on 7S10 and a good part of that is along a narrow shelf road.  And, as luck would have it, we were fortunate to run into an old CJ7 making his way down the trail right at a point where there was little to no room to pass.  Fortunately for him, everyone in our group was willing and able to back down quite a bit to let him pass even though it would have in my opinion been easier for him to back up a bit to let us pass.  But, I digress.  Moving forward again, we made our way across a pretty creek, climbed up and over the mountain ridge and were treated with the vast and spectacular view across Coyote Flats.
With legs having been stretched and photos of the awesome scenery around us taken, we continued to make our way across Coyote Flats on 7S10 and even got to do some minor wheeling as we made our way to Baker Creek 9 miles to the south and where we were originally planning to setup camp for the weekend.  Yes, I did say "originally planning to setup camp" as, I'm sure you can guess, is not exactly what we ended up doing.  Unfortuantely for us, it would appear that everyone and their mother decided that this would be the perfect weekend to head up into the mountains and setup camp in the exact spot that we wanted and they all got to it hours ahead of us.  Of course, once we started to hear some gun fire, we decided that finding a new camp site away from these yahoos was something we all prefered.  And ultimately, I think it's safe to say that all of us were glad that we did.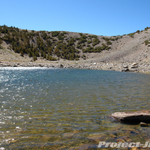 Making our way back across Coyote Flats, we tried to scope out potential camp sites along the way but ultimately decided to keep going all the way until we reached the 8S18 turn off which takes you to Coyote Lake and where we thought might be a good alternative place to setup camp.  And, as completely exhausted as we were by the time we got there, I think all of us would agree it was the perfect spot for us and way better than our original location.  At least, the only people there were about five guys riding in two CJ7's, one of which was really glad to see us especially since we had tools that they needed to fix the clutch linkage on an old T176.  And, as we would later find out, they were only staying in the area for the night leaving us with the entire lake all to ourselves for the rest of the weekend.  After getting ourselves situated and getting our tents setup, we spent the rest of the night filling our bellies with food, beer and wine while enjoing each others company, laughing the night away and watching the sky above in hopes of catching any pre-show we could get.
The next morning, we were expecting to have one more JK meet up with us but being that we were no longer in our originally planned location, there would be no way for them to know where we were.  So, in an effort to get a hold of Ted, the driver of the JK in question, I decided to make a quick run out to a high ridge in hopes of getting cell phone reception, make a call and let him know where we were.  Fortunatly, I was able to find such a spot and as it would turn out, just in the nick of time.  When I got a hold of Ted, it was about 8:00 AM and he was just finishing up airing down his tires at the staging area below and if I had come and made the call any later, I most likely would have missed him.  Unfortunately, by the time the time Ted and his wife met up with us, they were so beat from driving all night that the only thing they wanted to do was to setup camp and crash.  So, after being fed a pancake and bacon feast (compliments of Doug) as well as a tons of fruit and other goodies provided by everyone else, we packed up only what we needed for the day and made our way out to the first run of the day – Coyote Ridge.
Leaving camp, we made our way back up the trail we came from and then headed northwest up 8S19.  In very short order, we found ourselves climbing up above treeline and over the 11,000 ft. Coyote Ridge which, at its summit yielded breathtaking views of the valley we came from to the east, South Lake to the west and the stunning glacier laced peaks beyond.  And, when I say breathtaking, you had better believe that I mean that in more ways than one.  Certainly, if you weren't feeling the effects of the high altitudes we were in before, you were definitely feeling it by now.  Descending the back side of Coyote Ridge, we passed an old wooden mining hopper, made our way through a pretty meadow and ultimately ended our trek across 8S19 at the remains of the Schober Mine.  After spending some time poking around the ruins, we backtracked our way up and over Coyote Ridge again and headed back to camp for some lunch.
After a well needed meal, a majority of our group got back in our Jeeps for one more trail run and with hopes of finding terrain that was a little more challenging then what we've been seeing all weekend.  As for the rest of our group, the call of la siesta was too great and they ended up staying behind to catch some more Zzzz's.  Making our way back out to Coyote Flats and in search of an opportunity to shift into 4LO, we decided to explore a faint trail that, according to my GPS, might be a backway into Funnel Lake.  And, when I say faint, I mean there were literally several times along the way where you could hardly tell where the trail was.  Now, while this trail was nothing to write home about when it comes to its difficulty level, it definitely was a lot of fun and we were all glad to have found it.  Certainly, the reward of seeing the crystal clear blue waters of Funnel Lake at the end of the trail was nothing less than icing on the cake.  Leaving Funnel Lake on the main trail in, we continued our way across Coyote Flats and towards Sugar Loaf where, according to the Backcountry Adventures book, there was supposed to be a trail that was "rocky and slow going".  Need I say, we found anything but what was described in the book.  But, in all fairness, maybe we just missed it.  Either way, we were tired by now and wanted to get back to camp so that we could get cleaned up, have dinner, rest a while and enjoy the show we came all the way up here for.
Now, as you may recal, I had said at the begining of this article that the Perseid Meteor Shower we came to see was a bust and just to clairify myself a bit, I meant that it was a bust in the sense that we didn't get to see much of a show.  You see, at about 2:30 AM on Monday morning when the meteor shower was supposed to peak, a thick and choking fog of smoke from a nearby forest fire decended on our camp blocking our view of the night sky and, as you can imagine, was something that alarmed us just a bit.  Fortunately, Matt and I were still awake during this time and decided that the smartest thing to do was to wake everyone up as originally planned but instead of alerting them of the show to come, we alerted them to the possible danger we were in.  Operating on adrenalin alone, our entire group was able to break down camp and pack up in a record breaking half hour and by about 3:00 AM, we were back on the trail and on our way back down the mountain.
Back at the staging area, Doug and I used our WARN PowerPlants to air up everyone that needed it and helped anyone who was disconnected to get their swaybar links reconnected.  Once done, Ted and his wife took off while the rest of us debated whether or not we should try to catch a few hours of sleep before heading back home.  But, with the sun starting to rise over the White Mountains and the thought of 100°F temps quickly heading our way, we decided that grabbing some breakfast and coffee at Jack's Restaurant in Bishop and then heading home from there was the better thing to do.
As luck would have it, we would later find out that the fire that chased us out of the woods was really a safe distance from us and that we were not in any danger.  And, even though we essentially missed the whole reason why we did this run in the first place, I'd have to say that the great people I got to spend time with doing all the things we love like wheeling, camping and just enjoing each others company made it all worth the while.  In fact, I think in many ways, coming up with reasons to go wheeling are in reality nothing more than excuses to hang out with good friends.
Thanks to everyone who joined us on this amazing trip and for making it the absolute blast that it was.
Eddie