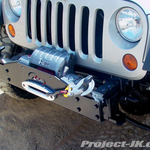 I know it's been a long time coming for all you Expedition One fans out there but after reading through this press release, I think you'll agree that the wait was totally worth it.  Over the next few weeks, Expedition One will be releasing a series of new bumpers and accessories for the new Jeep JK Wrangler, the first of which includes a line of products that focuses on what Jeepers really need and nothing more…. the Basics.
At the top of the list is the all new, no frills Expedition One JK Basic Winch Mount.  Constructed of high-grade, precision cut 3/16″ steel, this winch mount, which also happens to double as the ultimate shorty front bumper, is intended to be used with the factory Jeep JK Wrangler recovery hooks and work with most WARN and Superwinch winches that have a load rating of up to 9,500 lbs.  Truly, this front bumper/winch mount has been designed with one purpose and one purpose alone – function on the trail.  And, with it being that it's available in a satin black powder coat for $189.95 or in bare steel for only $169.95, it is also one of the most affordable ones available on the market today.*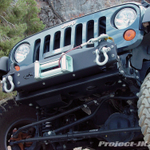 Next up is the Expedition One JK Basic DX Bumper.  Similar in its design and function to the standard JK Basic Winch Mount, the DX Bumper has been developed with a more profiled look and also comes equipped with two integrated recover points built out of ½" thick plate and gusseted with 3/16″ steel.  Another great feature of the DX Bumper is that it can be purchased in a super durable textured black powder coat finish for $289.95 or in bare steel for only $229.95.
Last but not least in the line up is the super beefy, rock tough Expedition One JK Rubi Skid.  This heavy duty skid plate is designed specifically for the Rubicon model Jeep JK Wrangler and is intended to replace the low hanging factory plastic airdam and subsequent lower cross member that is hidden underneath it.  It's specific purpose is to protect the Rubicon (as well as some newer X or Sahara models that come equipped with one) electronic sway bar disconnect motor but it can be used regardless if your Jeep has one or not.  In addition to being made out of beefy 3/16″ thick steel, the JK Rubi Skid offers an added benefit in its unique design which allows the electronic sway bar disconnect motor to be rotated upward providing greater clearance from boulders and obstacles on the trail.  Available in a black powder coat satin finish for $198.95 or in bare steel for only $159.95, the Rubi Skid can be used with all the Expedition One bumpers including the JK Basic Winch Mount (only $369.95 for everything if purchased as a package) and Basic DX Bumper (only $459.95 as a package), as well as the factory Jeep JK Wrangler bumper and even some after market bumpers made by other manufacturers.
If you would like to see more pics of these great new Expedition One products, simply click on the banner above or on the link below:
Expedition One Product Pics

Expedition One is now taking orders on all these new products and expect to have them shipping out in 2 weeks.  If you have any questions, you can visit Expedition One's website at: http://www.expeditionone.biz or you can contact them by email at: info@Expeditionone.biz or by phone at: (801) 726-4338.
Eddie
* Note: The JK Basic Winch Mount can be used without the Jeep JK Wrangler factory recovery hooks but it will not work in conjunction to the JK Rubi Skid without them. Some drilling may be required.