After seeing some of the amazing photos that our very own JK-Forum member, JKTyrant,  took while vacationing up in Hume Lake, California, Cindy and I decided that a trip up to this area was definitely in order.  After all, his photos only served to wet our appetite and seeing this awesome scenery for ourselves was now a must.  And, with Jen (toad), Jeff (bullfrog), John (jkjeep) and Doug (Trail Bud) along for the ride, we did just that last weekend by doing a run up the Buck Rock trail.
Due to distance, time constraint and a desire to keep things a simple as possible, everyone in our group decided to head up to Tulare on Friday after work and stay the night in the ever lovely, Motel 6 (what can I say, the rooms there were cheap and they allow dogs).  This way, we could get most of the highway miles out of the way and be fresh for the trail on Saturday.  And, even though it took us close to 6 hours, working our way through L.A. in rush hour traffic to get there, we were at least pleasantly surprised to find both John and Doug waiting to greet us, with warm smiles and with ice cold beers in hand.  Jen and Jeff showed up next about an hour later followed by Jason and Helen shortly thereafter and all of us turned in to bed by about midnight.
One of the best things about staying a couple of nights in a motel as opposed to camping is that you can pull your top and/or doors off of your Jeep and have a place to safely store them while you go wheeling.  And, in spite of the searing heat we were expected to have that day, several in our group decided to get up bright and early the next morning and take advantage of this liberating option including Jen, Jeff, Cindy and I, who decided to take it all off, and Jason who decided to go doorless and windowless but kept the ol' top on to provide shade for his dog.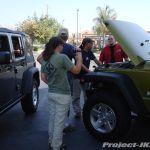 Packed up and ready to go, we stopped in at a little restaurant called Apple Annie's of Tulare, which was just across the Motel 6 parking lot, to have breakfast before making our way up the mountain.  Now, while this place might serve up a decent pie and ice cream for a bed time snack, you might want to skip this joint if you're ever in the area and looking for a good breakfast stop.  Need I say, the food was marginal at best and it ultimately gave one person in our group an express ticket to ride a porcelain throne so that he could reminisce his meal – but I digress.  With food in our bellies, we headed into town, gassed up our Jeep and then, if you can believe it, spent the next hour at Wal-Mart while Jeff and Doug waited in ridiculously long line trying to buy some replacement fuses that Jen needed for her Jeep so that she could use my spare hand held CB.  Of course, it was too bad for us that they ended up getting the wrong size fuses.  Fortunately, going back into Wal-Mart was not needed as we all noticed (a bit to late the first time around) that a Kragen Auto Parts was across the parking lot and before you knew it, we got what we needed and were on our way.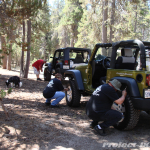 Now, while staying in Tulare did knock off a big bulk of the driving, getting up to the Hume Lake area still ended up taking us close to 2 hours in 90°+ heat and humidity.  But, after paying our $20 to get into Sequoia National Park and getting up to Grants Grove (which was in the 6,000+ ft. range), the temps cooled down nicely to a pleasant mid 70's and stayed as much for the rest of the day.  After using the last flushing toilets that we would see until sundown and picking up some Imodium AD for the gastro intestinally afflicted amongst us, we made our way east on 14S11 to a campground called Horse Camp where we aired down our tires and disconnected our sway bars.
On dirt at last, we turned onto 13S04 and made our way up to Buck Rock and got there in almost no time at all as this road was nothing more than an easy fire road accessible by your average mini-van or 4-door sedan.  However, once we got to the Buck Rock parking area, we turned onto a neat little road that lead up to a communications tower and as luck would have it, had some really nice rocks to play on with routes up it that had varying degrees of difficulty.  Jason was the first to make his way up the most logical line followed by Doug, John and Jeff.  And, all three were able to climb these rocks with little to no effort at all.  I was the last to attempt this climb and with a persuasion, decided to take on a tougher line.  And, while I did manage to stall my engine once, I was able to climb this route with relative ease and as you can guess, this got Jason and Doug wanting to take another stab at it.  Now, Jason with his 2-door Rubicon on 35's was still able to walk up this rock face in spite of the tougher line he took but the real entertainment came when Doug worked his way up and on to a large granite slab where he ended up high-centering his 4-door Rubicon with both 33″ front tires up in the air.  But, with a few stacked rocks under foot and some great driving from Doug, he was able to free himself from this sticky situation and eventually found a better line to work up and over.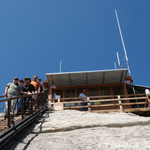 With play out of the way, we parked our Jeeps down at the designated Buck Rock parking lot and made our way down the foot trail and up the exhilarating wooden staircase to the top of the precariously perched fire lookout tower a top this stunning granite outcrop.  Built in 1923, the Buck Rock Fire Lookout is essentially a 14'x14′ one bedroom, well preserved cabin with an outstanding 360° view of the Sierra Nevada Mountains complete with electricity, a kitchen sink, wood burning stove, a twin size bed, radio equipment, maps, surveying equipment, old photographs and an array of souvenirs for sale including DVD copies of a California's Gold episode that Huell Howser did on Buck Rock.  Manned by local volunteers, this lookout tower is still very much in use today and is one of the best first defenses against forest fires by detecting them in their earliest stages and report their location to fire crews as quickly as possible.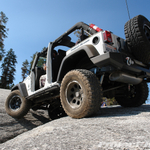 With pictures taken in every direction possible, we all made our way back down to the parking lot and had a well needed lunch.  And, before we got too sleepy under the cool shade of the pines, we got back in our Jeeps and continued our way down 14S47 (aka Buck Road) which was the main trail we came to run.  Now, I should tell you that the National Forest Service rates this trail as being "Difficult" and has even gone so far as to put up a big yellow sign at the trail head warning would be travelers of the impending doom ahead and even recommends mods you should have in order to run this trail but…. I have to say that the trail rating and warnings are most likely designed to scare off your average mall cruiser so that they don't get themselves hurt.  Overall, this trail is very easy and I'm quite sure that any stock JK with street tires could do it with little to no effort.  There are a could of steep descents on loose sandy terrain and one or two short climbs that may require a little throttle control but that's pretty much the extent of the 'harder' terrain if you could call it that.  Having said that, the scenery on the trail is beautiful and towards the end of the trail, there is a large granite slab with a crack in it that has a similar feel to the Golden Crack in Moab, Utah.  Need I say, we spent some time here playing and posing for shots before finishing up the trail.
Back on 14S11 and on pavement again, we aired our tires back up, reconnected our sway bar links and then made our way west back to HWY 198.  But, instead of going back to Tulare the way we came in, we decided to make our trip into a loop and headed south on HWY 198. That way, we could see some new scenery and get our moneys worth checking out some of the spectacular Sequoia Trees this national park is so famous for including the biggest one in the world, good ol' General Sherman.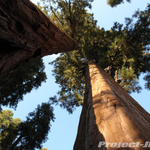 Now, it had been years since the last time I had visited Sequoia National Park and let me tell you, a lot had changed since then.  For one, if you visit General Sherman like we did, you now have to park up on a parking lot about a half mile away and take a shuttle to the tree or hike down to it on a neatly paved Disneyland-ish trail.  And for me, this was a real disappointment as I felt the whole experienced to be cheapened and commercialized.  But hey, I'm sure that's just me.  In any case, the short hike was invigorating and welcomed especially after sitting around as long as we had and would be in the hours to come on our way back to Tulare.  In fact, just below the Morrow Rock overlook, we came to a section of road that was under construction and went down to only one lane.  And, to control traffic up and down this section of road, a stop light was errected on either end and with a big orange sign informing motorist that it takes 20 minutes between light changes.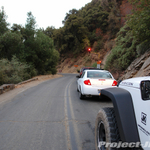 With the sun all but gone, our stop light from hell finally turned green and we were on our way back to Tulare.  And, we might of gotten back about an hour sooner than we did if Doug and I hadn't decided to pay the difference on our admission ticket at the park gate and have it them upgraded into annual National Parks Passes.  As it turned out, the ranger on duty was training a new recruit of which he had a knack for screwing things up and not being able to figure things out.  In fact, even as I write this article, I'm still not sure if I got short changed or if they did or if everything magically worked itself out. 
With HWY 99 in sight, Doug split off from our caravan and headed on home to SoCal and his daughter.  As for the rest of us, we got back to our rooms at Motel 6, got cleaned up a bit and then went out for beer and a hot meal at Chili's.  And, before going to bed, all of us made the wise decision of putting our doors and tops back on even though we were all absolutely beat.  Now, I say it was a wise decision not only because of the wonderful neighborhood we were in but also because that night, mother nature would end up serenading us to sleep with enormous claps of thunder and even a bit of rain.
By 8:00 AM the next morning, Jason and Helen were on their way home in hopes of making it to a birthday party they promised to attend.  Shortly after seeing them go, Jen and Jeff were joined us on the road again and after a quick stop in Bakersfield for breakfast, headed on home to SoCal.  As for John, he ended up sleeping in and made his way home on his own.
Once again, I'd really like to thank everyone for joining us on this trip up the Buck Rock Trail and for the great company.  Wheeling with you truly makes exploring the great trials this state has to offer so much fun and I can honestly say that I am really looking forward to going out with all of you again and soon!  Now, if you weren't able to join us on our trip but would like to see a ton of pics from it, simply click on the banner above or on the link below:
Buck Rock Trail Run Pics

Eddie