Rausch Creek Off-road Park once again hosted the 2nd Annual EastCoast JKFest and with a total of 87 Jeep JK's in attendance on Saturday and over 100 in attendance throughout the weekend.  Thanks to the generous help of our sponsors, PureJeep, Hanson Offroad, Clayton Offroad, Full Traction Suspension, 4Wheel Drive Hardware, Northridge4x4, Superchips, LOD, Teraflex and Alpha Expedition this event definitely turned out to be much bigger and better than the year before.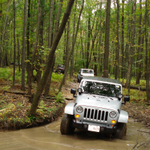 On Friday morning of JKfest, the park experienced a light rain through out the morning hours but it wasn't going to stop the dozens of jeepers who had come out to play. As you can see in some of the photos, I rode along with the stock group to show some of the newer jeep owners just how capable their stock JK's really are. And, as luck would have it, we had the fortune of getting some great guidance from a member that came out from Long Island, NY.
Around 1 PM, we received a call back from the trailhead informing us of some trail carnage that just occured to a couple of rigs and so we made our way back to the parking lot to see what we could do to help out. On arrival, we discovered that one unlucky JK members suffered a broken front Dana 30 axle shaft and the other broken a front drive shaft. Fortunately for them, Chad (Bruised on JK-Forum.com) from 4Wheeldrive Hardware was attending the event and was able to have some new axles and gears from G2 sent out as well as new driveshafts from JE Reel.  In no time at all, we had both Jeeps put back together and back in action.  After all our trail repairs were done, we decided that it was time to head over to O'Neils Pub back in downtown Pine Grove and have some dinner and a few beers with the Canadian Crew.  If you're ever at Rausch Creek Offroad Park, this is definitely a must stop destination as their food is great and they have a very nice drink selection as well.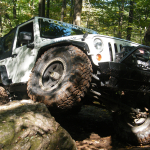 Saturday morning, we woke up to a nice layer of fog hanging over Pine Grove but lucky for us, it did clear up before we hit the trails. On this day, I decided to head out with the Canadian group and hit some harder trails. Around lunch time we met up with RDY4RKS crew in the woods and found one of their JK's down with what originally looked like a leaky dif cover.  Of course, after giving it a closer look, we realized that the cover was leaking because the front ring & pinion blew up and out through the differential cover itself!  Unfortunately, there wasn't much we were going to be able to do for him there so we decided that after dinner, we would just load up his JK on my trailer and tow him back to the hotel for repairs.
Speaking of dinner, I'd like to give a big thanks to Clayton Offroad for generously treating everyone who attended to some pizza and pop. With everyone feed, the rest of the evening was spent giving away awesome prizes that our sponsor including a brand new LOD front bumper, Superchips Flash Paq, gift certificates from Norhridge4x4 and 4wheeldrive Hardware as well as FREE T-Shirts to every driver in attendance compliments of PUREJEEP/Hanson Offroad.  Needless to say, no one went home empty handed.
If you would like to see all the photos we took at the 2nd Annual EastCoast JKFest, click on the link below:
2nd Annual EastCoast JKFest Photo Gallery
I'd like to thank all the sponsors who helped support the 2nd Annual EastCoast JKFest.  Without your generous help, a great event like this would not have been possible. We look forward to seeing all of you for East Coast JKFest Spring Fling 2010!
— Chris Bader (aka – Piginajeep)