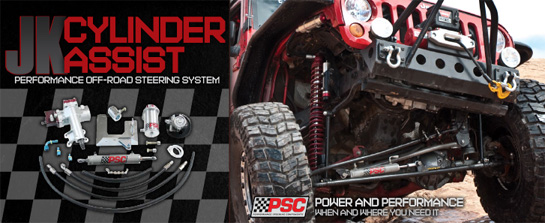 Complete PSC Cylinder Assist Steering System for the Jeep JK with everything needed for installation included.  You provide the tools, labor, and power steering fluid.
FEATURES INCLUDE:
a..  New steering gear, professionally modified for cylinder assist.
b..  New higher volume power steering pump with pulley to deliver 50% more volume to your steering system.
c..  A billet aluminum remote reservoir.
d..  Up to 3,600 pounds of additional steering force.
e..  Full bolt-on system, no welding required on JKs with the stock axle (some grinding/cutting may be necessary).
Available with 1-1/2″ or 1-3/4″ piston steering cylinder.  1-1/2″ piston recommended for tires 35″ or under, 1-3/4″ piston recommended for tires over 35."
PROJECT-JK SPECIAL:
For a limited time only, call and mention "PROJECT-JK" and you'll receive the JK Assist kit at the reduced price of only $1375.00 + shipping.  That's a savings of over $200.00!!
Call PSC Motorsports today at (817) 270-0102 to order.  For more information call or visit www.pscmotorsports.com