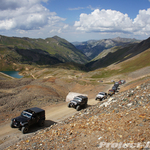 Over the last 3 years, the Off Road Evolution JK Experience, presented by Falken Tire, has been the premier event that every Jeep JK Wrangler enthusiast has wanted to be part of. Focused specifically on the Jeep JK Wrangler, this event has been designed to give manufacturers a platform to test out and prove the worthiness of the products they make both on and off the trail. Limited to only 10 sponsors and 10 invited guests, the JK Experience is an exclusive event and, being that this year was going to be an adventure through the Colorado Rocky's, it was one that we at Project-JK.com were thrilled to be a part of.
With a starting point in Glenwood Springs and an ending point in Grand Junction, our 2011 JK Experience Rocky Mountain Run would ultimately take us on a loop almost a thousand miles in length, in and around the Colorado Rocky's. Along the way, we would make stops in historic mining towns such as Leadville, Silverton, Ouray and Telluride and cross over majestic mountain passes such as California and the infamous Black Bear. Of course, what would a wheeling trip like this be without playtime on some of the hardest trails Colorado has to offer such as Holy Cross, Billings Canyon and the ever daunting Carnage Canyon.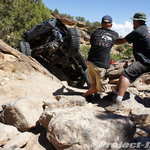 I need to give a BIG thanks to Off Road Evolution, Falken Tire and all the other sponsors who made this event possible and for allowing us, Project-JK be a part of it. This was truly an amazing once in a life time trip that Cindy and I will remember forever. The places we saw were out of this world, the trails we ran pushed us to the limit and the new friends we made truly made this experience, a priceless one. I hope to see all of you on the trails again soon and until then, remember to KEEP IT TIGHT!!
To see a photo essay that I created from our experience on the 2011 JK Experience Rocky Mountain Run, simply click on the link below. I hope you enjoy.