The first week of November is finally here and as most of you know, that can only mean one thing – IT'S SEMA TIME!!  And, as luck would have it, we were fortunate enough to be asked to have our Jeep JK Wrangler on display once again and this time, we came as a featured vehicle for TeraFlex Suspension.  Now, while the the actual show doesn't start until Tuesday, we had to show up a bit early to get our JK checked in and as you can guess, we are here in Las Vegas now and I thought you might appreciate getting a sneek peak of things to come.
Only because it's ours and one of the biggest reasons why we are here so early, the first set of photos I have to share with you are of our Jeep JK Wrangler.  Modified to work with a set of Off Road Evolution front coilovers and rear EVO Lever cantilever system, our TeraFlex short arm kit is currently sitting on Toyo 37×13.50 Open Country M/T's mounted on Walker Evans Beadlock Wheels.  For the purposes of this show, we also came buttoned up with a Bestop Trektop fastback soft top, a Rock Hard Sport Cage installed just underneath it and armored up with the all new LoD Signature Series Shorty Front Bumper with Stinger, Frame Mounted Rocker Guards and Rear Bumper with redesigned tire carrier system which features an adjustable tire mount and trail rack and offers a bracket that allow you to reuse your factory 3rd brake light.  I you want to see some detailed pics of all this, click on the thumbnail pic to the left!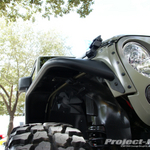 After we finished setting up, we noticed that a lot more JK's had come in around us and one of which was the Rough Country JK sitting on their 6″ suspension lift, 37×13.50 Dick Cepek Mud Country's and Wearing an olive drab body wrap that has rivets along the seams which gives it a cool military vehicle look.  Down the way a bit, Off Road Evolution had pulled in their monsterous JK which was standing tall on a Full Traction Long Arm Kit and a set of 40×15.50 Toyo Open Country M/T's.  Installed just for SEMA, they also came wearing a set of their new body armor, tube fenders and rear stinger/tire-carrier.  Beyond that, we found a nice Earth Roamer JK (essentially a JK converted into an off-road RV) and maybe half a dozen other JK's, some of which were bling queens and others built up with the craziest looking suspension setups I've seen, period.
Obviously, this is just a little taste of things to come and I promise to do a much better job of covering all JK's I can especially if they are featuring new parts and accessories.  However, if you would like to see some of the Pre-Show pics that we took here at SEMA 2008, simply click on the link below:
SEMA 2008 Pre-Show Photo Gallery 
Be sure to check back again soon for more updates and tons more pics!!
Eddie