Who am I kidding, the economy definitely has taken its toll on the off-road industry and the effects of it are definitely showing here at SEMA 2008.  Certainly, a lot of the big manufacturers I was hoping to see are absent this year and from what I've been told, the off-road hall as a whole is down about 40% down in vendor attendance.  But, inspite of all that, I can tell you that there's still tons to see and still quite a few JK's on display showing off their goods.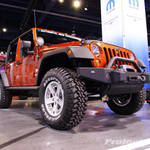 To kick off day one of SEMA 2008, we made our way down to the main Mopar display in hopes of seeing something new and exciting from the Underground guys.  Of course, being that the JK has been out already for a couple of years now and that the all new Dodge Challenger is making its debut, there really wasn't a whole lot new to see.  In fact, with the exception of three JK's that made it into the mix, the main focus of the Mopar display was all on the new Challenger and in all fairness, as it should be.  Of the three JK's present, one was the Mopar Underground J8 Sarge which made a debut back at the 2008 Moab Easter Jeep Safari, one was a Sunburst Orange Unlimited and the other was a Sunburst 2-door.  Nothing too fancy, just down and dirty but good looking daily drivers.  And, while there was a display for the J8 Dana 60 Rear Axle, I didn't see anything for the JK inspite of the fact that it's been widely reported in the past that one is coming.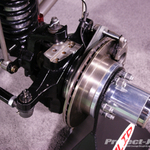 Speaking of 60's, I can tell you that there are at least two new manufacturers who have come to SEMA 2008 with a set made specifically for JK's.  The first of which is TeraFlex who came to show off their well designed and very afforadable CRDJK60R rear end other is SOLID who came with both a beefy rear 60 and a massively over engineered front 60 complete with optional kingpins and sealed sensor.  Clearly, the manufacturers are paying close attention to what we're doing with our JK's and with so many of us now sitting on 37's or even 40's, it's good to see them working hard to provide us with the tools we need to push our JK's even harder than ever before.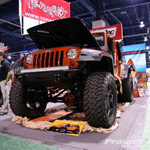 On a final note before I head back out to the show, I'd like to give kudos to COP4X4.  For those of you who have been following their Orange Crush build over on JK-Forum.com, you know that this thing is one hell of a cool looking Jeep.  However, having seen it up close and in person, I can tell you that it really is one of the best looking JK's I have ever seen – bar none.  Truly, the attention to detail is outstanding, it's paint job is mind blowing and it's overall showy appearance exemplifies what a SEMA rig should look like.  Great job COP4X4!!
Now, if you would like to see all the photos that we've been taking here at SEMA, simply click on the banner above or on the link below:
SEMA 2008 Day-1 Photo Gallery

Be sure to check back later today for more updates and YouTube Videos from the show.  Also, if you would like to discuss what you're seeing with others, head on over to JK-Forum.com where we have a forum dedicated entirely to the SEMA 2008 Show:
JK-Forum.com SEMA 2008 Discussion Forum
Eddie