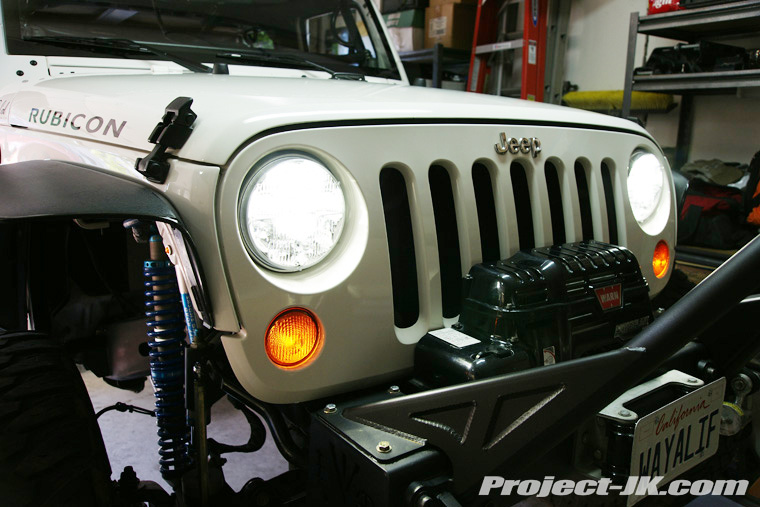 While the Jeep JK Wrangler is without a doubt, the best off road vehicle ever made, the headlights it comes with from the factory are anything but. In fact, I'd have to say that they are the one thing that everyone I know who owns a JK, hates about it. The light they provide are a sickly yellow at best, are really only focused at one point and do very little to fill in the road immediately in front of you. In fact, it is for that reason this that most people who own a JK tend to always use their fog lights in conjunction to their headlights and, are always in search of a good replacement.
Originally developed for the U.S. Military, the Truck-Lite LED's are a completely solid-state unit, rugged and put out an impressive spread of clean white light while using very little power. The low beams do a great job of filling in the road immediately in front of you and wide out to the sides as well. Of course, the high beams do an even better job by projecting light far out into the distance while still retaining all the lighting up front as well. These may not be the cheapest set of headlights you can buy but, in my opinion, you really do get what you pay for. When it comes to a great all around set of replacement headlights, I'd have to say that the Truck-Lite LED's are about the best I have found.
Installation of the Truck-Light LED headlights is super easy as the write-up below will show and typically takes about 15 minutes to do. Please note that 2 different JK's were used in this write-up as I already had aftermarket headlights and wanted to keep this from a stock perspective as possible.
Truck-Lite Jeep JK Wrangler LED Headlight Installation Write-Up & Testing