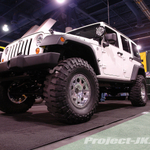 Seeing Donahoe Racing at SEMA 2006 wasn't so much of a surprise but seeing them there with a 5″ lifted Stone White Jeep JK Wrangler Rubicon Unlimited definitely was.  Make no mistake, Donahoe Racing is no rookie when it comes to developing high end off-road suspension products, but this was certainly the first time that they've taken a stab at the consumer level Jeep market in quite some time.  However, after giving a thorough once over at what they came up with for the all new Jeep JK Wrangler, you'd never know it.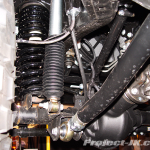 What really stood out the most for me on the new Donahoe Racing Jeep JK Wrangler Suspension System was the keen attention to detail they placed on all the components they used.  We're talking about the kind of details that are often overlooked but quite often make all the difference in the world when it comes to how it peforms, how well it rides and how easy it is to maintain.  Specifically, two key features of the Donahoe Racing Suspension System that I think are really worth mentioning is the use of dual rate coils and the use of innovative adjustment collars on all the control arms and track bars.   Of course, the dual rate coils are worthy of mention because they provide an optimal ride both on and off the pavement but the reason why I mentioned the adjustment collars is because they have been specifically designed to allow adjustments to be made on the components in question without having to pull it off your Jeep first.
When it comes to suspension systems for the all new Jeep JK Wrangler, Donahoe Racing is definitely playing for keeps.  And, from what I'm told, they should be releasing a 2″, 3″, 4″ and 5″ Short Arm Lift Kit as well as a 4″ and 6″ Long Arm Kit in the near future.  Pricing and availability should be released soon so be sure to check back soon.
Eddie