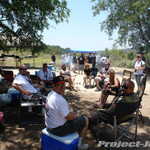 When Greg (Puddlz) contacted me about a month ago asking if I could set up some kind of a Project-JK SoCal Area day out in the park/picnic, I thought to myself, "sure, why not".  All I had to do was make an announcement on JK-Forum, get a few friends and family together and have a good time.  Of course, what I thought would only be "a few friends and family" quickly grew into being over 60 Jeep JK Wrangler owners, their friends and familes and if that weren't enough, a half dozen sponsors as well who showed up complete with displays including Full Traction, PUREJEEP, Off Road Evolution, Off Road Warehouse, 4xFix, Wild Boar and TeraFlex who came out all the way from northern Utah.  When all was said and done, we had much more than a simple get together going but rather, the first ever Project-JK SoCal Mega Meet!!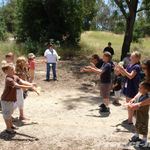 Held at beautiful O'neill Regional Park in located in Orange County near Trabuco Canyon, CA, the Project-JK SoCal Mega Meet 2008 was by far the most impressive showing of JK's I have seen to date especially being that there wasn't any wheeling involved.  With clear blue skies overhead and temperatures in the mid 70's, most of us spent the day relaxing, soaking up the sun, hanging out with friends or making new ones and as you probably could guess, checking out all the other JK's and dreaming about future mods.  As far as the kids went, Jen and Jeff (Toad and Bullfrog) did a wonderful job entertaining them with many games such as throwing frisbies into a cooler and a waterballoon toss.
Of course, what would a Mega Meet be without some great food, right?  Well, let me tell you, we had an overwhelming amount of food coming out of our ears and all of it was provided for FREE thanks to all the generous contributions of those who joined us for this event!!  For the main course, Cindy and I brought over 50 lbs. of our famous Korean BBQ short ribs and Greg was able to bring a heep of hotdogs and buns compliments of Jerry's Dogs.  As for everything else, we literally had stacks of soft drinks, chips, potato salad, rice, maccaroni, vegetable platters, pies, cakes, cookies, pastries, heaps of fruit and oh so much more.  With as many people as we had coming to this Mega Meet, there was definitely some concern that there wouldn't be enough food but I can assure you that nobody went home hungry.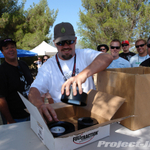 With all the fun we had, you would think nothing could make the day better but thanks to the generous contributions made by Full Traction, PUREJEEP, Off Road Evolution, TeraFlex, Don-A-Vee and 4xFix, I think it's fair to say that the big giveaway at the end of the day was truly the highlight of the Mega Meet.  Some of the prizes that people won included T-Shirts and caps from Off Road Evolution, Northridge4x4 and Project-JK.com.  Don-A-Vee provided half a dozen 5-FREE oil change certificates, TeraFlex provided a tow strap and sway bar quick disconnects and 4xFix provided an EVAP relocation kit, tailgate strut kit, hood lift kit and steering stabilizer relocation bracket.  Off Road Evolution also provided four sets of their new lower control arm skids and a pair of their must have C2 Reinforcement Gussets.  Full Traction provided a 2″ Budget Boost kit as a prize for playing a 'guess the part' by feel only game as well as one for 'packing a budget boost box' in 30 seconds and gave away T-shirts to everyone who came to the Mega Meet so that everyone would leave a winner.  However, the ultimate prize that everyone was hoping to win was without doubt, the brand new stubby front bumper that PUREJEEP provided and that was won by Austin (Mojave Green) as he came the closest to guessing how many nuts, bolts, screws, washers and fasteners were in a jar.
Now, if you weren't able to join us for the Project-JK SoCal Mega Meet this time around, you can be sure that we will having more just like it in the future and I'll be looking forward to having you join us then. And, if you would like to see a ton of pics from what you missed this time around and can expect the next time, simply click on the banner above or the link below:
Project-JK.com SoCal Mega Meet 2008 Photo Gallery

Eddie
Special Thanks:  I would like to give special thanks to Clint (CLACKEY(_!_)) for his assistance online and at the park, Mark (Rubimon) and Doug (Trail Bud) for helping to setup, Ted and Patrick (Full Traction) for helping me to BBQ all the meat, ColinW for donating a brand new tow strap for the giveaway, Jeff (Bullfrog) for helping out with the name tags, Andrew for taking all the pictures, and most of all to Jen (toad).  Without her enthusiasm, devotion and commitment to helping Cindy and I out, none of this would have been possible.