By far, the most difficult section along the Rubicon, the Little Sluice (also known as the "Sluice Box") is essentially a narrow crack about 100 yards long and situated between a granite wall on one side and a granite slab on the other.  Now, what makes this crack so challenging is that it's filled with enourmous, ill positioned boulders made slick from countless spinning tires and a myriad of fluids left behind from fallen rigs that were either cut open, laid on their side or flopped on their lids.  Being that this section of trail is virtually impassable, there are two different bypasses that one can take around it but last weekend, Mel Wade of Off Road Evolution was there to conquer it.  And, as luck would have it, we had the priviledge of being invited along side feature editor Ali Mansour from Petersen's 4 Wheel & Off-Road to bear witness to this historic moment – the worlds first Jeep JK Wrangler tackling the infamous Little Sluice.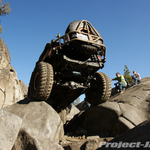 Armed with a JK Unlimited equipped with a Off Road Evolution Long Arm Suspension System, Double Throw Down Rear EVO Lever System, Double Throw Down EVO Front Coil Overs, wrapped in EVO Body Armor, Rocker Guards/Bumpers and riding on Dynatrac Pro Rock 60's front and rear and 42″ Goodyear MT/R's with Kevlar, Mel made his first attempt through the Little Sluice on Friday afternoon.  Unfortunately, soon after clearing the first set of boulders, his air compressor gave out and left him without any lockers.  Wedged literally between a rock and a hard place, Mel decided to do a quick bypassed of the air compressor, hook up his CO2 tank in it's place and keep pushing through.  However, with our daylight fading, we all decided that it might be best to call it quits, pull out of the Sluice, set up camp, make some solid modification to the air system and then give it another go in the morning.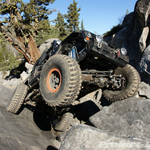 With the sun still climbing up and over the Sierra Nevada's, Mel finished up the last of his modifications and made his way back to the start of the Little Sluice.  After establishing a game plan with Ali, Mel decided to make his second attempt through much closer to the slab side as opposed to the middle as he had done the day before.  While this new approach would offer up more surface area for his tires to bite into, it would also mean that he would have to come in at an extreme off camber angle and force his front tires to make axle breaking climbs up steep boulders.  Fortuantely for him, both the flex he came prepared with and strength of his axles made it possible for him to push his JK to the limit.  While a strap was hooked up to his rocker guard at one point along just in case to help prevent the possibility of a tip, Mel was able to make it all the way through the Sluice Box on his own power, without any damage and all in under an hour.
I have always felt that the Jeep JK Wrangler and especially the 4-door Unlimited is by far the best Jeep ever made and without a doubt, the most capable on the trail right out of the box.  And, as I have seen for myself first hand, with a little help from Off Road Evolution, you can easily make your JK virtually unstoppable!!
To see photos of Mel and his Off Road Evolution Jeep JK Wrangler conquering the Little Sluice Box, simply click on the link below:
Off Road Evolution Conquers the Rubicon Trail Little Sluice Box Photo Gallery