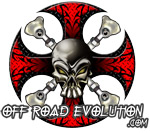 The 2009 Moab Easter Jeep Safari is just around the corner and I'm happy to announce that this year, Project-JK will be hosting the JK event of the year along with Off Road Evolution over at the world famous Area BFE. This event, officially entitled the Moab JK Jam 2009, will take place on Wednesday, April the 8th and participants will get a chance to wheel some of the coolest trails in Moab, feast on great food, pick up some sweet swag and get a chance to win some awesome prizes – Admission is FREE!!
Date: Wednesday, April 8, 2009
Time: 9:00 AM
Location: Area BFE (directions listed below)
If you would like to join us for this epic event, please click on the link below and sign up for it today. Please note, you will need to be a member of JK-Forum.com in order to register for this event:
The Moab JK Jam is an event made possible through the help and support of the following Project-JK sponsors*:
Additional support is made possible by these Project-JK sponsors:
Tuffy Security
Currie Enterprises
COP4X4
Current List of Prizes:
• Discount Tire Direct – Set of 5 ALL NEW Goodyear MT/R Kevlar 35×12.50R17's
• RockKrawler – Heavy Duty Tie-Rod and Draglink
• Tuffy Security – JK Security Center Console
• TeraFlex – Sway Bar Quick Disconnects (2 pair)
• Currie Enterprises – JK AntiRock
• Clayton – Front Lower Control Arms, Rear Lower Control Arms, 25% Off Gift Certificates
• Alpha Expeditions – 80'x3/8″ Orange Whichline with Safety Thimble
• MBRP Inc. – Performance Cat-back Exhaust (2 or 4 door)
…. more to come!!
Directions to Area BFE:
For those of you who've never been to Moab, Area BFE is located just south of town. To get there, go south on Hwy 191 Approx 13 miles. Just after the uphill passing lane comes to an end, take the first left (this comes quickly, be prepared). Follow the maintained dirt road and signs for about 3 miles to the cleared parking area on the left and all the JK's
To find out more information about Moab, the 2009 Easter Jeep Safari or the JK Jam Event, click on the link below:
Project-JK Moab Easter Jeep Safari 2009 Information Forum
* If you are a sponsor of Project-JK.com who's not already a part of the Moab JK Jam 2009 but would like to get involved, please contact us by email at: info@project-jk.com