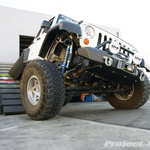 I swear, there were times when I honestly thought that hell would freeze over before we got it, but, after waiting patiently for over six long months (okay, okay, maybe not so patiently but that's beside the point), my wife and I were finally able to pickup our brand new 2007 White Stone Jeep JK Wrangler Rubicon Unlimted from Don-A-Vee Jeep in Placentia, California and bring her home – YIPPIE!! Click on the link below to see a gallery of our very first pics:
Project-JK.com Jeep JK Wrangler Pics – Day 1
With out a doubt, make sure to get a good look at her now because I can guarantee you, she won't look like this for much longer. 
Eddie
Special Thanks: I'd really like to give Jeff Sladick of Don-A-Vee Jeep a BIG thanks for all his help.  If you're in the market for a new Jeep, are in the SoCal area and would like to be helped by a real Jeeper and not just a salesman, be sure to give this guy a call.