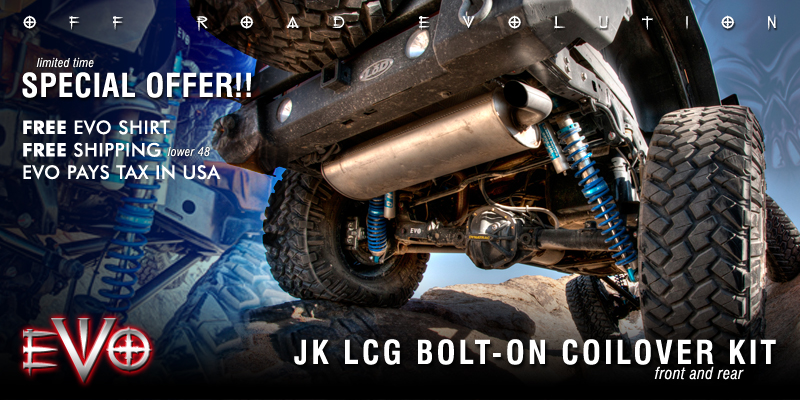 With a foundation in the first and most proven coilover systems for the Jeep JK, EVO MFG brings you its new LCG Bolt-On Coilover System. The EVO LCG Bolt-On Coilover kit comes complete with all necessary parts to easily convert the JK from the limited coil and shock system to a far superior performing coilover system. With 12� of usable wheel travel, custom built brackets for the lowest center of gravity and EVO's legendary SPEC valving and spring rates, the EVO LCG Bolt-On Coilover system proves to set the bar, for ease of install, price and performance.
Features:
• Simple and quick installation
• LCG 3â€?-5â€? recommended lift height – fully adjustable
• Minimal drilling/cutting required – fully bolt-on
• Hi clearance design
• Retains all factory rear exhaust system
• Retains factory front and rear swaybars
• Contain all necessary parts to convert a standard coil spring suspension system into a coilover system
• Can be used with any long or short control arm system
Front EVO LCG Bolt-On Coilover Kit w/EVO SPEC Coilovers – $1750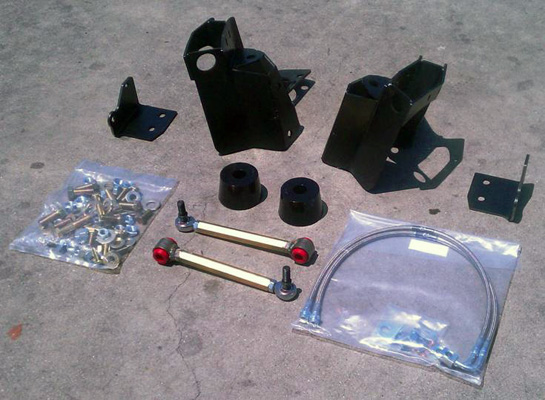 Rear EVO LCG Bolt-On Coilover Kit w/EVO SPEC Coilovers – $1850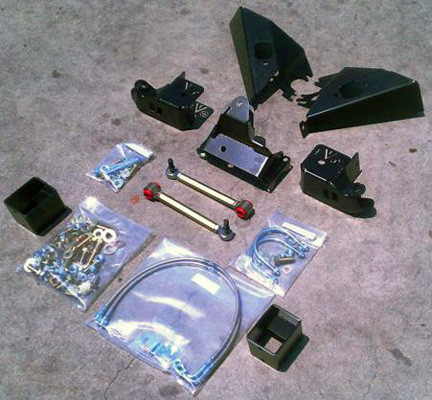 Notes:
• Recommended wheel backspacing 3.75� or less (smaller backspacing #)
• 2-Door JK: Front and Rear Aftermarket Driveshaft Required
• 4-Door JK: Front Aftermarket Driveshaft Required, Rear Recommended
SPECIAL PRE-ORDER OFFER!!*
Order your EVO MFG LCG Bolt-On Coilover kit from Off Road Evolution today and receive the following special offer:
> FREE SHIPPING to the lower 48 United States
> NO TAX and if you live in California, Off Road Evolution will PAY for it!
> Receive a FREE EVO T-shirt
* This offer is limited to the first 50 pre-orders only.
Estimated shipping date end of June.