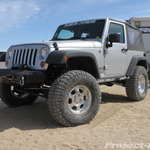 Well, I just got back from the 2007 Tierra Del Sol Desert Safari and in addition to the real show stoppers you'd expect to see there like Off Road Evolution's Silver JK Sahara Unlimited, TeraFlex's Red Rock Crystal JK Rubicon Unlimited and Rubicon Express' Silver JK Rubicon 2-Door (which by the way had a cool new heavy duty steering system), I thought I should tell you that I did come across two other new JK's that really caught my eye.  The first JK was the 4 Wheel Drive Hardware/ProComp giveaway Silver JK Unlimited X and the other was Rock Hard 4×4 Parts Flame Red JK Rubicon Unlimited.
What really drew me in to the 4 Wheel Drive Hardware/ProComp JK was the brand new Garvin Wilderness Roof Rack sitting on top of it.  Much like the roof racks Garvin has been making for years for the TJ, this was by far one of the strongest looking, functional and cleanest designs I have seen to date.  And, although this rack was only a one-off prototype, I have no doubts that it'll go into production soon and be a real hot seller.
Now, the rack may have drawn me in to the 4 Wheel Drive Hardware/Explorer Pro Comp JK but what kept my attention on this great looking Jeep wasn't what was on top of it but rather what it was sitting on top of.  Specifically, this was the first time I had seen a production model of the Explorer Pro Comp JK 3″ Suspension Lift and one that came complete with their uniquly designed triangular tube shaped lower control arms.  At a glance, this looked like a real solid kit and I'm really eager to see how it performs on the trail.
As far as the Rock Hard 4×4 Parts Flame Red JK Rubicon Unlimited goes, I was really looking forward to seeing their new super heavy duty rear bumper tire carrier but, as absolutely cool as this bumper was, I have to admit that I was completely distracted by what was inside the Jeep.  You see, this Jeep was equipped with the very first full Sport Cage made specifically for the Jeep JK Wrangler and just like all the other Sport Cages Rock Hard 4×4 Parts famously makes for the TJ, YJ, CJ's and even the XJ, this thing was a 100% bolt in application and looked simply outstanding.  In fact, if they had one available at the show, I would have taken it home with me right then and there.  By far, this was the single best thing I saw and you can be sure that it will be in my JK soon.
To see more pics from the 2007 Tierra Del Sol Desert Safari Show, click on the link below:
2007 Tierra Del Sol Desert Safari Show Pics
Eddie