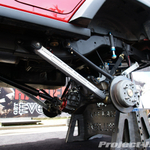 For those of you who weren't able to attend the 2009 Off Road Expo in Pomona, CA, rest assured, you didn't miss much. While this was the 10th anniversary of the show, it was by far the smallest I have seen it in terms of square footage and in terms of the amount of displays. Granted, with 3 fewer buildings and subsequent alleys to fill, the show did feel a lot more crowded than years past and, I suppose that was one of the smartest things the promoters of this show could have done.
So, was the show a total bust? Not at all. While there wasn't a whole lot new to see, there were a few new products that really caught my attention and are deserving of a kudos. First and foremost, I have to give a big thumbs up to Off Road Evolution and the official release of their new long arm suspension kit. While many have seen this kit in development, this was the first time that it was put on display as a product with a price tag and available for purchase today.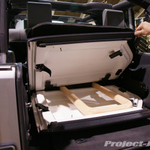 If there were a single product that I had to give a Best in Show award to, it would definitely have to be the all new M.O.R.E. Freedom Top storage unit.  Funtional, easy to use and available at an affordable price point, this storage unit is compact in design and will allow you to safely remove and store your Freedom Top panels safely and securely in the back of your JK and without risk of damage to them even when off roading. In the upright position, you still retain a significant amount of storage space and in the down position, it's steel construction allows you to carry all your cargo on top of it. Loading up or removing your Freedom Tops from the storage unit can be done from the back of your JK simply by lowering the storage unit's front panel. Or, if the back is all loaded up with gear, you can access the tops just as easily by lowering your JK's rear seatback.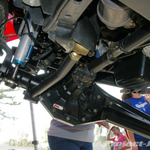 Other notable mentions from the show would have to include the all new Currie 609 fabricated axles (which by the way look totally badass), the Expedition One new stubby front bumper, the OR-FAB sport cage, the all new Bushwacker flat fenders and, while the Atomic Axles were way over the top for my taste, the JK they had on display was very nicely built and quite the looker.
If you would like to see all the pics we took from the 2009 Off Road Expo Show, simply click on the link below: