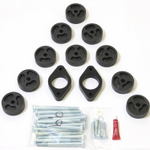 Chino Valley, Arizona – Performance Accessories makes it simple to maintain your Jeep JK's ride height, with a new 1-inch body lift kit. Adding accessories such as a winch, spare tire carrier, your luggage, and family members, adds a lot of weight to your Jeep JK. The weight pushes down on the suspension and you could loose as much as .5 to 1-inch of ground clearance, which can make the difference between a smooth trail ride and one that scrapes skid plates and rubs fenders.
Performance Accessories' 1-inch body lift helps maintain your JK's proper ground clearance while allowing you to enjoy the factory ride on the trail. On the highway, the body lift doesn't affect the vehicle's suspension geometry and maintains a smooth ride. The body lift kit #991 fits 2007-'08  Jeep JK, Wrangler and Unlimited, 2-door and 4-door models equipped with an automatic transmission. It can also be installed by the home mechanic in about an hour and retails for less than $120. The kit comes with high-grade hardware and Performance Accessories' proven performance in providing 90% of the off-road industries' body lifts for more than 25 years.
Performance Accessories also makes 1-inch, 2-inch and 3-inch body lifts for various other make, model and year, Jeeps; all made in the U.S.A. For more information on this or any other Performance Accessories product, contact Performance Accessories, 3651 N. Highway 89, Chino Valley, AZ 86323, (928) 636-7080. Or visit them on the web at www.p-a-g.net.