To celebrate the kids getting out of school for the summer, the doojers, WOLette and I decided to make a 3 day trek up the good ol' 395.  Leaving on Wednesday night, we met up with the doojers in Culver City and made our way to Lone Pine where we stayed the night with the hopes of getting a fresh and early start in the morning.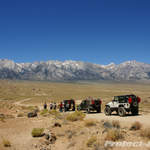 Bright and early the next morning, we met up with the Lone Pine Film Commissioner, had breakfast with him at the amazingly delicious Alabama Hills Cafe (definitely a must if you in the area – be sure to try the homemade bread!!) and then took a tour of the incredibly scenic Alabama Hills.  Along the way, we learned about the Alabama Hills long history of movie making that's been going on in this area since the turn of the 20th century. In the past, the Alabama Hills was used extensively as a backdrop for Westerns featuring actors such as Roy Rogers and John Wayne.  Today, it still gets used on a regular basis but now serves as a backdrop for places such as Afganastan and features actors such as Robert Downey Jr. in movies like Ironman.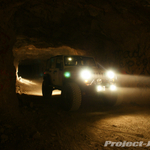 After leaving the Alabama Hills, we made our way north a bit and took a trip out to the Reward Mine.  This is a mine I had heard about a long time ago but had never been to before.  In fact, it was only until JeepCacher mentioned it to me a few months back that I decided it was time to make it a destination.  Now, for those of you who are unfamiliar with the Reward Mine, it is mine that is HUGE and you can actually drive down into and go as far back as a quarter mile!!  There are many chambers and side tunnels you can explore and towards the end of the main tunnel, there is enough room for you to make a 3 point turn.  In fact, there might be enough room to get as many as 3 Jeeps down there and get them turned around.  From this point, you can explore the mine further on foot but care should be taken as several of the shafts that I had seen were collapsed or in the state of collapsing.  If you are concerned with exhaust fumes, I can tell you that there is a vertical ventilation shaft towards the end and fresh air flows though the mine at all times.  In fact, when we got to the mine, the outside air temperature was 102°F and as you walked up to the mine entrance, you could feel a chilly breeze blowing past you with a temp closer to 65°-70°F.  But, even at that, I wouldn't recommend that you let your engine idle for extended periods of time down there.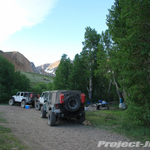 After leaving the Reward Mine, we continued our journey north, stopped in Bishop to pick up some provisions and a fire permit and then headed on up to our final destination of the day – Laurel Lakes.  Located just south of the town of Mammoth Lakes, the Laurel Lakes is by far one of the most spectacular places that I have taken my Jeep to in the Easter Sierra Nevada Mountains.  In fact, it is so beautiful up there that many off road trail books highlight it and Tony Hugel made it his cover shot.  Anyway, with the sun hiding behind the towering peaks and daylight fading quickly, we decided to stop short of the lakes and setup camp amongst the lush Aspen groves along Laurel Creek.  As we would find out the next day, it was a good thing we did too.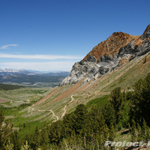 After breakfast the next morning, we got in our Jeeps and made our way up to the Laurel Lakes to do some fishing.  Unfortunately, our trip was cut short as we came across a small snow drift that was still blocking the trail – of course, I should remind you that this was the end of June.  And, while we were able to dig our way through it, we came across two more drifts that were significantly larger and impossible to negotiate and/or dig through.  Needless to say, we were forced to make the rest of the trip on foot and just to take in the view and snap off a few pics.  After making our way back to camp, we had a leisurely lunch and then spent the day relaxing in the vast open meadow nearby and tried our luck at fishing in the creek.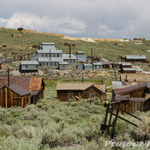 On our final day, we decided to get an early start, have breakfast at the Good Life Cafe down in Mammoth Lakes and then make one last trip up to the world famous ghost town of Bodie before heading back for home.  While I have driven past Bodie countless times in the past, I had never actually stopped in the State Park itself for a number of reasons.  However, I must say that I was really glad that we did this time around.  Of all the ghost towns I have visited over the years, Bodie is truly the largest and most impressive one I have seen to date.  Although this ghost town is anything but during peak season, it definitely is a must see destination.
If you would like to see all the photos that we took on this trip, simply click on the link below:
Adventures on the 395 Photo Gallery
I would like to give special thanks to doojers for helping to organize this trip and for inviting us to come along, Lone Pine Film Commissioner, Chris Langley for the educational tour of the Alabama Hills and the friendly rangers at Bodie State Park for taking the time to share some of the great history surrounding this wonderful California gem.
Eddie