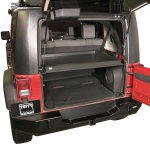 This security deck enclosure creates a large and lockable storage area completely protected on all sides. It works in conjunction with the vehicle rear door and lock.
The lid easily hinges open and is secured shut using an innovative latching system (Patent rights reserved). The lid and front can be easily removed without tools so larger items can be transported when required. The unique lid design is constructed from structural welded steel which incorporates a large weight bearing tray for organizing and transporting items on top. There are also two large trays on each side above the wheel well for addition storage and organization.
The entire Tuffy deck enclosure is constructed using welded 16 gauge steel, heavy duty fasteners, and finished with a durable textured powder coating.
It will work in vehicles equipped with or without the subwoofer and functions with the OEM compartment cover or the Tuffy Cubby Cover Part#143. All trays have external drain holes to prevent puddling moisture. Mounts easily without drilling in two and four door models and works with an OEM hard or soft top. Optional Rubber mat part#864 shown in some images is not included but can be ordered separately.
FEATURES:
• Large storage area is secured shut when the rear vehicle door is locked
• Lid easily hinges open for easy access when the rear vehicle door is opened
• Lid and front can be easily removed without tools
• Weight bearing lid incorporates a unique storage tray
• Two side organization trays included on top of the wheel wells
• Mounts in vehicles with or without the OEM subwoofer
• Mounts in vehicles with an OEM hard or soft top
• Works with the OEM storage cover or Tuffy Cubby Cover Part#143
• Includes all mounting hardware required and does not require drilling
• Includes weather seals and all trays have built in external moisture drain holes
SPECIFICATIONS:
Part #173 Color: 01 Black (Rubber mat Part#864 not included)
Exterior Dimensions overall: 36 5/16″ L, 52 5/16″ W, 17 9/16″ H
Interior Dimensions : 33 3/4″ L (Bottom), 41 1/2″ W, 15 1/2″ H
Top Lid Tray Dimensions Inside: 25 1/16″ L, 37 3/8″ W, 1 15/16″ H
Side Tray Dimensions Inside: 15″ L, 5 3/16″ W, 2 9/16″ H
MOUNTING:
No Drilling required. Side panels are fastened to existing mounting points in the vehicle. The front is fastened to
the sides with quick hand operated knob screws. The top then inserts into catches in the sides. The top and front can be easily removed. Fastens with the hardware provided.
FITS:
• Jeep Wrangler JK, 07-Current (With or without OEM subwoofer and OEM hard or soft top) 4-door models
2-door models (with rear seat removed)
Part# 173 Available in (01)Black
For more information, please contact:
Tuffy Security Products
25733 Road H; Cortez, CO 81321
800-348-8339
www.tuffyproducts.com