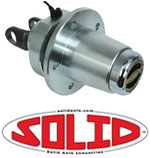 Just as was promised back in November at the 2007 SEMA Show, SOLID Axle Industries has just released their all new SpynTec Conversion Kit and it is now available for sale.  The official press release for this awesome new front hub conversion can be seen below and after having the opportunity to check it out for myself, I can tell you that this is going to be a must have upgrade for just about every JK owner I know:
SpynTec Conversion Kit
Until now, new JK owners have been living with the idea that converting to a fixed spindle front axle wasn't an option. With the implementation of ABS, and the new Electronic Stability Program (ESP), JK owners have been forced to accept the limitations that the unitized bearing front end has to offer. Larger tires and heavy accessories place unwanted stress on the factory assembly leading to an unfortunate and costly failure.

Solid Axle Industries has created an option for the JK by adding it to our new SpynTec line of fixed spindle conversion kits. SpynTec kits restore the ability to service and maintain your vehicle as needed, while reducing the wear and tear to your driveline by allowing for the front hubs to be unlocked. Your ABS and ESP functions are retained with the combination of our uniquely designed hub and spindle.

Our forged hub features a gear cut tone ring, while the forged spindle retains the factory ABS sensor mount. As with all SpynTec kits, your speed sensors are now completely sealed from harsh on and off road conditions. Names such as Timken, SKF, Warn, Chicago Rawhide and Spicer go into every Solid Axle SpynTec conversion kit.

All SpynTec Kits Include:
• Forged Spindles with Integral ABS Sensor Mount
• Forged Hubs with Machined Reluctor Ring
• All Bearings, Races, Seals, Spindle Nuts
• Rotors and Wheel Studs
• Warn Premium Manual Locking Hubs
• Stub Shafts
• Universal Joints
To see more pics of this conversion kit, click on the link below:
SOLID SpynTec Conversion Kit

For more information regarding the SOLID Jeep JK Wrangler Front SpynTec Conversion Kit, please contact SOLID directly at 1-888-290-AXLE or visit their website at: www.solidaxle.com.  If you would like to purchase a SOLID Jeep JK Wrangler Front SpynTec Conversion Kit, they are now available at Northridge4x4.
Eddie