I know there are a ton of you who have been waiting for this news for some time now and so I'm happy to announce that the long awaited ShrockWorks Jeep JK Wrangler Mid-Width Front Bumper is finally here!!  And, although the photos you see here are just the very first bare steel prototype pics, I'm told that the design as you see it is ready to go into production now.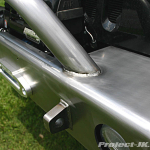 Just as is the case with their current and very popular Stubby Front Bumper,  the  new Shrockworks Mid-Width  Front Bumper is constructed out of high strength laser cut, CNC formed, 3/16″ steel plate that is meticulously welded and finished by skilled craftsman here in the USA but it is also specifically designed to accommodate the factory fog lights integrated within the bumper itself.  And, for those who didn't get their Jeep JK Wrangler with fog lights but have always wanted to add some, Shrockworks will also be offering mounts to allow for the installation of 4″ aftermarket driving or fog lights as well. 
Standard Features Include:
Skid Plate – A removable skid plate is included.  The skid wraps far enough under that it will also protect the sway bar disconnect motor found on JK Rubicon's and some other 2007+ Jeep JK's. Since the skid is removable, it can be easily replaced if damaged. That's not likely to happen though. The skid is formed specifically for strength. The edges are bent up on the sides. It has welded gussets on the back side, and it's made from the same high-tensile 3/16″ steel plate as the bumper itself.

Shackle/Recovery points – They are made from massive 1″ thick plate steel. They are welded front & back, and they are designed in such a way that even if the welds were to fail, the recovery points themselves are still held in the bumper.

Winch Ready – There is nothing else needed to mount a winch. Just bolt it on and go!  Accommodates most winches up to 9500 lbs, including some hard to fit winches like the new Warn Powerplant HP winch and the short drum 9.0RC comp winch.

Finish options are: bare steel, semi-gloss black powder coat, and a semi-matt textured black powder coat. The text-black has a rough texture. It looks similar to the non-Sahara fender flares or the stock bumpers.

Quick Specs:
– 3/16″ plate steel bumper & skid plate
– 1″ thick steel recovery points.
– 2.5x .120″ high strength tubing
– Weight:
   – Bumper: 59bs.
   – Winch Plate: 11 lbs.
   – Skid Plate: 27 lbs.
   – Total: 97bs.
– All new hardware included
– Bolt on, no drilling or cutting
– Proudly made in the USA!

Pricing:
 $729.00 – Black
 $644.00 – Bare
If you want to see more pics of the new Shrockworks Jeep JK Wrangler Mid-Width Front Bumper, click on the link below:
Shrockworks Jeep JK Wrangler Mid-Width Front Bumper Pics
Now, I should also note that Shrockworks has asked me to let you know that they are eager to get feedback from from you over the next few days so that they can decide whether or not they will be making any changes or additions to the existing design before putting them into production.  Also, Shrockworks is an active participant within our JK-Forum community and so I would encourage you to check there as well for updates.
Eddie
---
UPDATE:  The Shrockworks Jeep JK Wrangler Mid-Width Front Bumper is now available for sale.