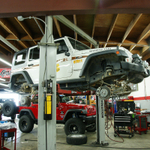 Patrolling our nation's borders and endless miles of the southwestern desert is a dangerous and grueling job that is performed by just a handful of dedicated officers. These men and women in uniform are required to traverse over 200 miles a day, over rough and difficult terrain and even though they are equipped with one of the finest off road vehicles ever made, the Jeep JK Wrangler, the ride can still be a brutal one and more times than not, can leave drivers feeling completely exhausted at the end of the day. When it was decided that an improvement in the ride, handling, performance and overall comfort of these patrol vehicles was needed, I think it's no surprise that our government looked no further than to Off Road Evolution.
After doing extensive research and spending time with Border Patrol Agents and BLM Rangers on duty, the Off Road Evolution design team went to work to develop a basic suspension system that offered 3.5″ of lift, increased articulation, improved handling and most importantly, superb ride comfort.  In the end, what they created is the all new EVO Enforcer Suspension System.  Equipped with 3.5″ EVO Plush Ride Coils, EVO Spec Shocks, EVO Front Lower Control Arms, Track Bar Relocation Bracket and a few other components to complete this kit, the EVO Enforcer successfully delivered the goods and now this awesome suspension system will be made available to you.
When off-roading is more than just a hobby but rather, your job and the smoothest ride possible is a must, the all new Off Road Evolution EVO Enforcer Suspension System is exactly what you'll want for your Jeep JK Wrangler.
For more information, please visit http://www.evomfg.com or call Off Road Evolution
at: 714-870-5515