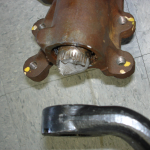 Don't think this can happen to you?  Think again!  With the installation of a lift kit, big oversized tires and a dropped pitman arm, more side loading will be placed on the sector shaft of your steering box (which in factory configuration is a single shear mount) and more and more people that I know are starting to damage or break theirs.  As a matter of fact, I have broken my sector shaft as well and when yours breaks – you're walking!!
Fortunately for us, there is an answer to this problem and it is the all NEW bolt on EVO 1015 Sector Shaft Brace.  Developed by our good friends over at Off Road Evolution, the EVO 1015 Sector Shaft Brace is a bolt on item that double shears the shaft and therefore helps to alleviate some of the side loading on it.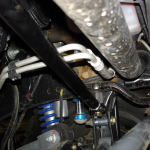 Features:
• Bolt on installation (Drilling of two holes required)
• Double shears the sector shaft inside of the JK steering box
• Helps to alleviate side loading on sector shaft.
• Can be used with any suspension kit that has a drop trackbar bracket on the frame side (i.e. like the kind that Full Traction, Rancho and Rubicon Express makes).
Needless to say, if you are running 35″ tires or taller and play hard on the trails, this really is a must have upgrade and I would highly recommend it.  For more information about the EVO 1015 Sector Shaft Brace, please contact Off Road Evolution by email at: mel.wade@offroadevolution.com or by phone at: (714) 870-5515.  Or, visit their website at: www.offroadevolution.com
Eddie