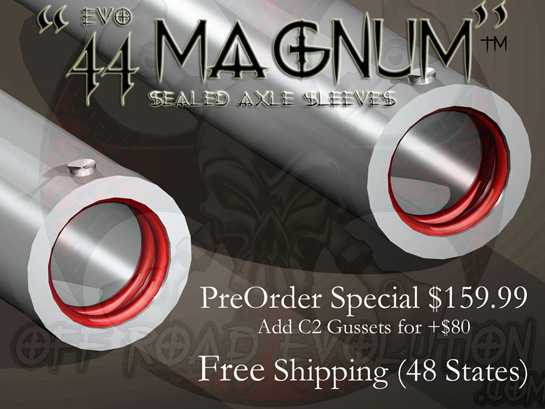 Off Road Evolution is proud to announce the 44 Magnum. This product is designed to increase JK axle housing strength by 30% while incorporating dual seals to prevent debris from entering the axle tubes. Combining these two tried and true technologies will not only increase the strength of your axle housing, but will also help to prevent premature falure of the costly to replace inner axle seals.
• Works on all JK Front Axles (Dana 30 and Dana 44)
• Adds 30% bending strength to axle tubes
• Seals axle tube from debris
• Greasable design
For a limited time only, PreOrder the EVO "44 Magnum" Sealed JK Axle Sleeves for $159.99 with free shipping to the Continental United States. You can also add EVO C2 Gussets with your order for an additional $80.
For more information about the new EVO 44 Magnum Sealed Axle Sleeves, please visit: www.offroadevolution.com or call them at 714-870-5515