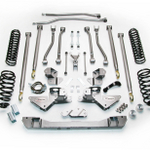 Our competition hates this system, but your Jeep JK Wrangler will love  it. Our new 3″- 4″- 6″ long arm systems are sold as a complete  replacement suspension.  Able to handle tires up to 37″ tall, it  utilizes a 4-link front axle mounting configuration for a true and  correct caster curve, and improved anti-dive geometry throughout the  entire range of linear wheel travel – just like the factory does it. Other systems using radius arms, medium length  arms called "long arms" and the rest, can't match its performance. 
Utilizing a true long arm rear 4-link, the rear axle is attached to  the frame by 4 pivoting links- just like the factory does it. the  result, is incredible linear wheel travel and axle articulation,  improved anti-squat geometry for better hill climbing performance, and a free, no binding movement that short arm or radius  arm systems can't deliver. And now, we're upgraded this system to  incorporate our all new maintenance free joints. The combination of  OEM style torsion rubber bushings & Kevlar lined spherical joints  means NO LUBRICATION REQUIRED!
Do you drive your JK daily?  Modifying it doesn't mean that it can't ride better than stock. This system offers hard core rockcrawling performance that rides BETTER than  stock. Don't believe the hype about other kits that use radius arms,  the arguments being offered are more confusing than revealing. The  factory uses a 4 link configuration for several important reasons.  Added strength and safety, reduced binding and bushing wear, and  incomparable differences in both on and off road driving performance  are the proof of this method. Full-Traction has taken the factory 4 link configuration to its limits by adding arm length and geometry corrections to compensate for height, and critical off road conditions.
NO OTHER SYSTEM AVAILABLE OFFERS THIS CONFIGURATION. You want tough?  All components in this suspension system are built for maximum off-road punishment. We use 2″ x .250″ wall DOM tubing for our lower trailing  arm assemblies for serious rock dragging, and laser crafted 1/4″ plate  bracketry throughout.
This is a FULLY BOLT-ON system. No welding is  required to install. When we say "perfected" we mean that in every possible way. Full-Traction just spoiled the competition's day.
Optional Full-Traction M-Force MonoTube series shock absorbers and CV  drive shaft available.
Full-Traction Suspension • 6901-C McDivitt Dr. Bakersfield, CA 93313
800-255-6464 • www.full-traction.com • Chrisb@full-traction.com