Of all the bumper manufacturers out there, Expedition One was definitely one of the first to put out some exciting computer generated designs for the all new Jeep JK Wrangler and since that time, I know there have been many of you who have been waiting patiently for this very bumper to be released.  Well, I can tell you with all certainty that your wait is finally over and I think you're going to be extremely happy with the final product.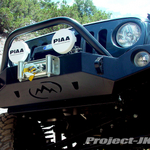 The all new Expedition One Jeep JK Wrangler Trail Series Front Bumper is a full width bumper with tappered ends for maximum clearance and full frontal protection.  Constructed out of 3/16″ thick steel, the JK Trail Series Front Bumper comes complete with an integrated winch mount (that will work with the new WARN PowerPlant), 1″ thick shackle mounts for use with standard 3/4″ shackles, integrated light ports for use with factory fog lights and an optional 2″ x 0.120″ wall hoop that comes with auxiliary light mounts.  The JK Trail Series Front Bumpers is also designed to work in conjunction to the Expedition One Rubi Skid which, when installed all together, provides maximum rock crushing, front end protection for your Jeep.  And, with a starting price of only $749.95 to get it in bare steel, an additional $100.00 if you'd like to have it powder coated black and only $50.00 more if you would like to get it with an optional front hoop, this front bumper not only looks great but is also quite affordable as well.
If you would like to see more pics of the Expedition One Trail Series Front Bumper installed, simply click on the banner above or on the link below:
Expedition One Jeep JK Wrangler Trail Series Front Bumper Pics

Eddie
---
Expedition One is now taking orders on this front bumper and expects to have them shipping out in 4 weeks.  If you have any questions, you can visit Expedition One's website at: http://www.expeditionone.biz or you can contact them by email at: info@Expeditionone.biz or by phone at: (801) 726-4338.