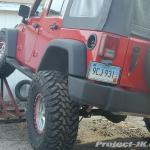 For those of you who are familiar with Clayton Off Road, you'll know that have a reputation for making some of the meanest Jeep suspension lift kits on the market today.  And, if you're one of the many that have been waiting to see what they'll be coming out with for the new Jeep JK Wrangler, you need not wait any longer as I just got word from them that they've completed the development of a prototype 4.5″ Standard Arm Suspension Lift Kit.  This fully bolt on 4.5″ kit is designed to clear 36″-37″ tires and although there are a few minor changes they would like to make to it (I've been told that 37's are actually a little tight and that the addition of a 1″ BL or limiting bump stops will most likely be installed until they can make some adjustments), the overall drive is great and no issues in handling or otherwise have been found so far. 
If you're interested in checking out the Clayton Off Road 4.5″ Standard Arm Suspension Lift Kit for yourself, it will be on display and out testing on the trails at the 2007 Easter Jeep Safari in Moab, Utah this March 31st through April 15th and the kits should be available for sale in May of 2007.  If you would like to see more photos of this suspension system, click on the link below:
Clayton Off Road 4.5″ Standard Arm Suspension Lift Kit Photos
I should note that none of the suspension components are powdercoated but production kits will have powdercoated arms and trackbars. Also, although they are not shown in the current photos, longer rear sway bar links will be included with the kit as well.
So what do you think?  Clayton Off Road is sincerely interested in hearing your honest opinoin about this lift kit and they would be grateful if you would let them know by contacting them directly at: info@claytonoffroad.com or by posting a comment here.
Eddie