With a total of only four Jeep JK Wrangler Unlimited's along for the ride, I can honestly say that the very first Project-JK run up into the Eastern Sierra Nevada Mountains was by far one of the most enjoyable runs we've done to date.  And, although there was a last minute change in plans as to what trail we would be running, I think everyone in our group would agree that it was most definitely for the better.  Certainly, way better in the sense that we ended up running two trails instead of just one and one of which involved some fun on the rocks.
Now, as was originally planned, everyone in our group met up for good hearty breakfast over at The Stove in Mammoth Lakes.  Situated at the far end of town and in a cozy old house that had been converted into a restaurant, The Stove has always been one of my favorite breakfast joints in the Mammoth area as they always serve up great homestyle cooked breakfasts and in very large portions.  And, although they weren't able to get all 13 of us seated together on one table, they were able to get us seated very quickly and served by a very friendly waitress.  After a delicious meal, some coffee and great conversation, we all made a quick stop over at Erik Schats Bakery for some last minute trail snacks, got some gas and then headed down the 395 and to our first trail run of the day – Wheeler Ridge.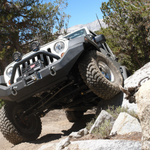 Located just southeast of Tom's Place, the trailhead for Wheeler Ridge can only be reached by driving approximately 7.5 miles up the easy but very scenic Sand Canyon Trail that has amazing views of snow laced Sierra Nevada peaks and the vast expanses of the John Muir Wilderness.  Now, Wheeler Ridge itself is a narrow trail that makes its way up over an 11,000 ft. ridge weaving its way through trees and across a few rocky climbs technical enough to give an unlocked and/or stock JK a good challenge.  And, if you haven't already aired down and disconnected your sway bar links, you may want to consider doing so in the wide open meadow just before you turn on to the trail.  Once you make your way over the high ridge, the trail will descend into a beautiful wide open basin with a small lake in the middle of it that typically has water in it but was unfortunately dry for us.  From here, you can make your way across the basin and then down a narrow shelf road that leads to an overlook of the Round Valley.  For our purposes, we just decided to head over to some rocks on the other side of the lake, relax in the warm sun and then have some lunch before heading back out. 
Back on the 395, we headed over to Rock Creek where Tim (JeepCacher) and Doug (TrailBud) and their families were camping.  There we got cleaned up a bit while Tim and Jana gathered up some goodies for our Sunset BBQ run.  And, after making a quick stop over at Tom's Place for some cold drinks, we were on our way up to the Laurel Lakes.
Just south of Mammoth Lakes, the Laurel Lakes Trail is short (about 5 miles each way) and very easy but rocky enough to rattle the fillings out of your teeth if you choose not to air down your tires.  Also, if you're squeemish about heights, there are several sections along this trail that rides along narrow shelf roads and one very tight switchback that will require you to make a 3-point turn to work around – yes, it can be a bit creepy.  But, the entire lenght of the trail does offers some of the most outstanding views you will ever see in the Sierra Nevada Mountains and at the end, you will be rewarded with two beautiful lakes (one with a cute island/peninsula that you can walk out on to) close to 10,000 feet up that you can camp at and fish for brown and golden trout.  When we arrived at the lakes, it was already 8:00 PM and the sun was still just barely shinning on the higher peaks.  And, after taking in the sights, snapping a few pics and looking for a geocache in the area, both Tim and his wife Jana quickly setup their BBQ and proceeded to treat all of us with fantastic burgers, hotdogs and chips.
With the sun completely gone and just a hint of twilight remaining, we packed up and slowly made our way down the dusty mountain.  And, once we got back onto pavement and got our tires all aired up, we all stood around and spent the rest of the night talking, laughing and looking up into the sky as Tim pointed out planets, constellations and even a satellite crossing overhead using the way cool star charts that he had on his PDA and an amazingly powerful laser pointer that Doug had.  It really was kind of crazy especially since I knew we were all completely exhausted, but, nobody seemed to be in a hurry to leave and it wasn't until about midnight that we finally said our goodbyes and went our separate ways.
To all of you who were able to join us on this awesome trip up into the Eastern Sierra Nevada Mountains, I really am grateful that you could make it and for making it as fun as it was.  As for Tim and Jana, I really do appreciate your generous hospitality and for your willingness to serve us dinner.  For those of you who couldn't make it to this run, you can click on the banner above or on the link below to see what you missed out on.   And, if you want to join us on our next outting, be sure to stay tuned as you know more are coming your way.
Project-JK Summer Sierra Trek 2007 Pics

Eddie
Bonus Run: The doojer's decided to join us for one last run up to Mono Lake and the Kavanaugh Ridge on the following Saturday and if you would like to see a few pics from our bonus trip, simply click on the following link: Kavanaugh Ridge Trail Pics