On October 10, 2008, Eastcoast JK members finally got a chance to show the westcoast what wheeling really is at the Raush Creek Offroad Park in Joliett, PA.  Sponsored by 4WD Hardware, the Project-JK's Eastcoast JKFest was the first of it's kind outside of California and without a doubt, it was clearly the biggest ever or anywhere!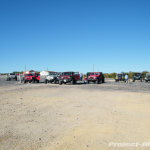 Even though he got an early start on Friday morning, Bryan Hart (aka Bustabizz) of 4WD hardware was still surprised to see a dozen JK's already waiting for things to get going.  Luckily, the registration greet crew got right to work at 8:00 AM and were able to finish things up quickly.  In all, we had about 30 JK's signed up for Day-1's ride and split up into 3 groups – stockers, modified and extreme.  As many of you know, I wrecked my JK at the beginning of the week so unfortunately, I was without a ride.  But, as luck would have it, Tyler (aka Usagone) offered to give me a ride in his built up 2007 Rubicon on 35's MTs and join the extreme group without hesitation.  And, after riding with him, I must say he's one hell of a driver and an even better spotter.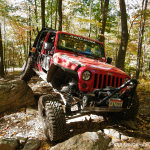 As you can imagine, being in the extreme group, we got a chance to play on several tough rocky obstacles along the way.  Luckily, Raush Creek is set up with bypasses for the harder sections of the trails but overall, they were rarely used if at all.  In fact, one driver in our group was crazy enough to show up in a stock 4-Door JK sitting on 31's but even at that, he was still able to make it though just about everything.  Granted, it was a struggle for him but he was able to hang with all built up JK's surprisingly well and without much damage at all.  On the flip side, guys like Bob (aka bobhuff) and Joe (aka RDY4RKS) came with rigs running Full Traction 6″ Long Arms on 37's made it seem as though they ran the entire trail with their JK's set on cruise control.  As we returned to the big tent around 5:00 PM, I watched a handful of JK's roll into the lot with flags flying proudly on there rigs and was glad to see they were none other than the Canadian crew.  After getting their passports checked, they were all ready to do some wheeling but only after we got a chance to feed them and show them what American Cornholing is all about!
Day-2 started off at a fast pace and never really let up.  I think in all, we ended up registering about 74 JK's and all before 10:00 AM.  As we did the day before, we decided to split up into multiple groups – a couple stocker groups, a couple modified/extreme and an extreme group.  To make things interesting, I decided to switch things up a bit and ride with Art (aka whtIwrk4 – a Canadian) for the day.  Unfortunately, Art ended up blowing out a front tire soon after we got going but thanks to all the great help we got from everyone around, we were able to get it changed in a hurry and were back on the trail in no time at all.  The trailride went pretty smooth after that and while most of our day was spent doing some easy rockcrawling, we did get a chance to hit a couple of bigger rocks as well.  If there's one thing I can say, these guys from up north sure know how to wheel.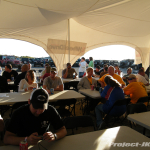 At the end of the second day of wheeling, 4WD Hardware and Raush Creek Off-Road Park treated the JK members to pizza and pop and we even got a chance to sing happy birthday to Todd (aka flipdik).  After dinner, the prize giveaways began and I must say that our vendors really stepped up big time for this event!  As a matter of fact, we had a total of 35 lucky winners that got to go home with a prize. Of course, the main vendors of the event were 4WD Hardware, Solid Axle, Full Traction, Purejeep, Tuffy, Riveraiders, jeepswag.com, Teraflex, Low Range Magazine and Bestop but we even had a rep from Clayton Offroad show up on Saturday morning with a prize in hand to giveaway as well.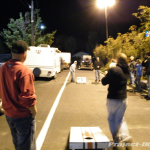 The biggest prize of the night was a Solid Axle Spyntec Kit worth $2,000 but other prizes included: a Fulltraction 2″ Lift, Purejeep Cold Air intake, Purejeep D-Ring shackles, Tuffy Glove Box, Riveraider rocker guards, Woods steering stabilizer relocation brackets, Evap reloc and Hood lift, Bestop Bikini and header, Solid Axle diff covers – 6 of them, Riveraider Highlift Jack and Jackmount, Low Range Magazine subscriptions.  4WD Hardware donated dozens of prizes as well, some of which included a Viair complete onboard air system, Warn winch, Synthetic winch line and several $100 gift cards.  Really, I could go on and on listing out all the great prizes 4WD Hardware gave away as it was a ton and not a single person was sent home empty handed as 4WD Hardware made sure to give an event T-shirt to everyone.  Honestly, I can't say enough how much we really appreciated their help in organizing this event.  At the end of the night, it was back to the hotel for us and a Cornhole Championships to compete in. Sadly, the Canadian Crew just couldn't compete with the likes of Brian Hart (Bustabizz) and Jamey Paine (Painezj) – the self-proclaimed and reigning Eastcoast Cornhole Champs.  Now, I'm not sure that's a title I would want, but hey – that's just me.
Finally, Day-3 of the Project-JK's Eastcoast JKFest left us with a lot less JK-ers.  In all, we only had about 20 or so JK's out for the day and so we only needed to run two groups, one for modified and one for extreme.  Once again, I decided to ride along with Art and must say that the Canadian Crew really stepped up the second day as we went from wheeling on small rocks to wheeling on rocks the size of Jeeps.  I should note most of the guys from Canada were close to stock – if not stock and they all had at least a 7 hour drive home.  Needless to say, I was very impressed.  Unfortunately, we did have one casualty and that was Rod (aka Zebco) as he ended up breaking a rear driveshaft.  Fortunately for him, both Bryan and Jamey from 4WD Hardware got right on the phone and started to make some calls.  And, when it seemed like Rod was going to get stuck applying for his citizenship here, Brian decided to call up a competitor located right up the road, Quadratec.  Luckily, Brian was able to find a replacement driveshaft from one of their employees and got everything taken care of.  I must say, this is what Jeeping is all about.  After a good day of wheeling, we went to dinner with the Canadian Crew and said our farewells.
If you would like to see all the pics we took from the Project-JK's Eastcoast JKFest, simply click on the banner above or on the link below:
The Project-JK's Eastcoast JKFest 2008 Photo Gallery
Chris Bader (aka piginajeep)
Project-JK.com Contributing Writer
---
Special Thanks:  I'd like to thank all of our vendors for helping to make the Project-JK's Eastcoast JKFest such a great success.  If it wasn't for 4WD Hardware and Bryan Hart, this event would not have taken place.