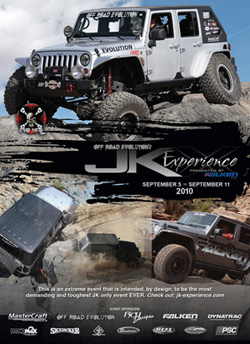 Over the past few years I have been fortunate enough to go on several organized Off Road Trail Adventures. Some more intense than others with hard-core trails, long road days, a hot dog and brew by the fire and a tent as my shelter. Other runs have been more laid back with fantastic scenic trails capped off with a nice hot shower, restaurant prepared meal, and comfortable climate controlled room in a hotel. While each event is vastly different from the next, the experience I brought back from them was very similar. An Experience that I have wanted to share with as many friends, customers, and business partners as possible so they too can tell their own stories, show their own pictures and videos, and most importantly have a new set of friends for life that together conquered some of the toughest and most beautiful trails in the world.

– Mel Wade, Off Road Evolution CEO and founder of the JK Experience
This is an extreme event that is intended, by design, to be the most demanding and toughest JK only event EVER. A gathering of the top Manufacturers of JK performance parts together with JK owners and JK enthusiasts, and have them wheel their rigs nose to tail and mile after mile. Off Road Evolution's JK Experience presented by Falken Tire will be an event that will promote and showcase the off-road and on-road capabilities of the Jeep JK, and in particular the products from those manufacturers that participate/sponsor the event. Expect hardcore terrain, mind blowing scenery, and what you will call "The best experience I have ever been on" when it is all said and done.
"We could not be happier or luckier to have Project-JK.com and JK-Forum.com as part of the JK Experience", said Mel Wade. "Eddie and Cindy do such a great job taking care of their members and making both sites the best in the business. I'm truly honored of our affiliation."
All JK owners interested in participating on the JK Experience must sign up and send in the form that is on the www.jk-experience.com web site. Our team will review all entries and pick 10 lucky participants to join us and our top tier manufacturers. A full guideline of the rules and regulations are also on the JK Experience website.
As our tag line states, "Got one, Bring it on!"
Additional discussion regarding the JK Experience can be found on following JK-Forum.com Special Events Forum here: