For our second day at SEMA 2008, we decided to try and spend as much time as we could up in the Off Road Hall and take pics of every Jeep JK Wrangler that we could.  Unfortunately, even though we spent the better part of a day there, I think we were only able to hit up about half of all the JK's present.  As you can imagine, there really is just so much to see and more often than not, we ended up spending way too much time at each display – go figure.  Anyway, of all all the things we saw today, I'd have to say that Bestop, Wild Boar and Dynatrac had the goods that really caught my eye.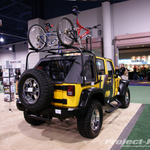 What I really like about Bestop is that they're really good about developing useful products that every JK owner can use and at a reasonable price.  And, to that end, they came to SEMA with several new products that I think will be a real hit including their re-designed Trektop that now has a contoured shape to it and several support straps that help prevent the pooling of water in a down pour, a very nice new set of door handle pads that will keep your elbows from getting beat up and a new concept that they are working on called the BestRail which will allow you to install a no drill roof rack system.
Among all the other new products that Wild Boar came to the show with, I'd have to say that their all new 2-door fastback hard top really is winner. Truly a great looking alternative to the factory hardtop, the Wild Boar fastback top has a finish that looks absolutely factory. And, for those of you who want the benefits of a quick open air experience but don't want to deal with the hassles of what to do with your freedom top panels once their off, the Wild Boar fastback top comes complete with an easy to use sunroof. If I had a 2-door and was looking for a hard top, I'd have to say that this is the route I would go for sure.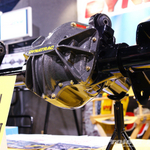 While a Dana 44 front axle is something that we all want to give us the strength we need to run larger tires, the factory installed Dana 44 is a far cry from a true 44 and over the past two years, many of us have found that out the hard way. Well, thanks to Dynatrac, you can now upgrade your front axle to a super beefy and beautifully designed Pro Rock 44. With it's trademark Dynatrac high clearance differential design, reinforced axle C's and massive axle tubes, this axle is everything that a Dana 44 should look like and more.
If you would like to see all the photos that we've been taking here at SEMA 2008, simply click on the banner above or on the link below:
Be sure to check back later today for more updates and YouTube Videos from the show.  Also, if you would like to discuss what you're seeing with others, head on over to JK-Forum.com where we have a forum dedicated entirely to the SEMA 2008 Show:
JK-Forum.com SEMA 2008 Discussion Forum
Eddie