While we have been able to locate and cover over 30 Jeep JK Wranglers here at SEMA 2008, we knew there had to be a heck of a lot more we missed and so we decided to spend our 3rd day here thoroughly combing the Off Road Exhibition Hall in the hopes of finding whatever else we could.  And, as you can guess, there were in fact plenty more JK's everywhere and of the ones we found, four of them really got me to stop and stare – the MOPAR Alley Rubicon Oasis Concept, the OR-FAB/Trailmaster/Performance Accessories custom wrapped Unlimited, Rampage's custom painted Unlimited and Real Wheels all white Unlimted with black highlights.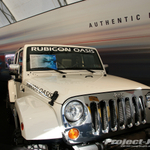 Before coming to SEMA 2008, we were told that among other things, there wasn't going to be a MOPAR Alley this year.  Fortunately for us, this was far from true and it was where we were able to see the Jeep JK Wrangler Rubicon Oasis Concept.  While I personally am not a big fan of color matched fenders and hard tops or bling of any kind in general, I have to say that on this JK, it actually looked pretty nice.  However, more than it's looks, I was really impressed to see that this concept JK would come complete with a 4.5″ long arm kit, 37″ tires, 5.13 gears and a cold air intake and all from the factory.  Obviously, this is just a "concept" but hey, I never thought I would see the day when a Jeep would come with 32″ tires, front and rear lockers, a 4:1 transfer case or an electronic push button sway bar disconnect and all from the factory.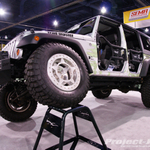 Although OR-FAB/Trailmaster/Performance Accessories had their JK on display last year, it wasn't in the main hall and several new additions were made to it since then.  The biggest addition I could see, with no pun intended, was the addition of their all new Trailmaster 5″ suspension lift.  Complete with new upper and lower control arms, this lift kit is designed to clear 37″ tires with ease.  The other additions that caught my eye was their new full width rear bumper and new Jerry Can-less tire carrier.  With this setup, you can now have all the benefits of the existing OR-FAB tire carrier such as the ability to carry a much larger spare, mount a Hi-Lift Jack and relocate your 3rd brake light but without having your spare tire stick out any further away from the body than is needed.  And, for those of you who will never have the need to carry Jerry Cans out on the trail, this is the perfect setup for you.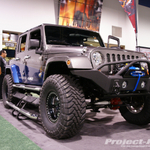 Clearly, the COP4X4 TeraFlex Orange Crush JK is by far one of the sweetest looking JK's that I have ever seen and one that simply screams SEMA.  However, if I had to pick a very close 2nd place, it would have to be the beautifully custom painted Rampage JK.  But, in addition to it's great looks, this JK also came loaded up with all kinds of great Rampage products including their very cool full Brief Top which can be zipped off in the middle to make it a Half-Brief Top or mix and matched up with their screen top.  Another cool product that Rampage had on display was their very cool Hi-Lift Jack mount which bolts up to your factory tail gate hinges.
For those of you who don't remember or who weren't around to see the coverage we provided last year, Real Wheels came to SEMA 2007 with a JK that was blinged out to the extreme.  Needless to say, it didn't do a whole lot for most of you here but to their credit, they did do a great job of listening to what you would want and took what you had to say seriously. And, for SEMA 2008, Real Wheels came with a beautiful all white JK and with just about every accessories on it in black billet aluminum.  These accessories include door handles, door hinges, hood hinges, indicator light protectors, gas cap covers, tow hook covers and a massive front brush/grille guard.
If you would like to see all the photos that we've been taking here at SEMA 2008, simply click on the banner above or on the link below:
SEMA 2008 Day-3 Photo Gallery

Be sure to check back later today for more updates and YouTube Videos from the show.  Also, if you would like to discuss what you're seeing with others, head on over to JK-Forum.com where we have a forum dedicated entirely to the SEMA 2008 Show:
JK-Forum.com SEMA 2008 Discussion Forum
Eddie